Dana White undecided on rebooking Jon Jones vs. Daniel Cormier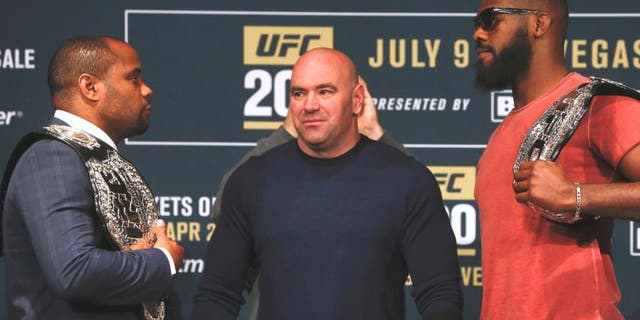 NEWYou can now listen to Fox News articles!
A shockwave rocked the mixed martial arts world on Wednesday night with Jon Jones being pulled from his main event fight at UFC 200 after he was flagged for a potential anti-doping policy violation.
Jones had a drug test flagged from a collection done on June 16 as administered by USADA (United States Anti-Doping Agency), which handles the UFC's anti-doping policy.
Jones being pulled from the card could have far-reaching ramifications, especially if he's facing a lengthy suspension for the possible anti-doping policy infraction.
While Jones and Cormier have fought once previously, this is the fourth time they've actually been scheduled to face off with two other bouts scrapped due to injuries. Now with a possible doping violation causing the latest bout to be cancelled, UFC president Dana White addressed the possibility of booking the rematch again at a later date.
"I don't know. We'll see how this thing goes down. Jones might get two years for this. We'll see," White said on Wednesday.
White said that he got the call about the potential doping violation and immediately moved to announce the change to the card with Jones being pulled from his fight with Cormier.
At the time of the press conference, White hadn't spoken to Jones but he definitely planned to speak to the interim light heavyweight champion in the very near future.
"We'll see what he says to me," White said about Jones.
The UFC's drug testing program instituted last July has cost the promotion several notable fights in the past year, but White says cleaning up the sport -- even at the expense of bouts like Jones-Cormier -- is worth the cost in the long run.
"This is the way it should be. We have the best program in all of sports. It's the way it should be," White said. "Obviously, I was at dinner when I got the call and I literally like 'Jesus Christ, I must have jinxed myself' cause I kept going 'everything is going so smooth' and nobody had been hurt. Everybody was healthy so this was a pretty brutal phone call.
"These types of things are going to happen and it could have been a lot worse."
Jones is scheduled to appear at a press conference on Thursday morning at 11:30 a.m. ET to address the matter, but from the sound of things his opponent at UFC 200 is moving on without him.
Cormier has already stated that he's willing to fight a new opponent on Saturday night or move onto a new bout all together in the future.
As of right now, Cormier is putting Jones in the rearview mirror while he deals with the fall out from this drug testing situation.
"I've got to move forward," Cormier told FOX Sports. "This chapter of my life has been dragging me and dragging me and it's made me ugly. It's not me normally. I guess we'll see what happens in his appeal process, but as of right now, I've got to move forward. I can't live in this space right now.
"I've got move forward. I've got to clear my mind of anything in regards to him."