Dana White says Rodrigo Nogueira is done: 'I don't want to see him fight anymore'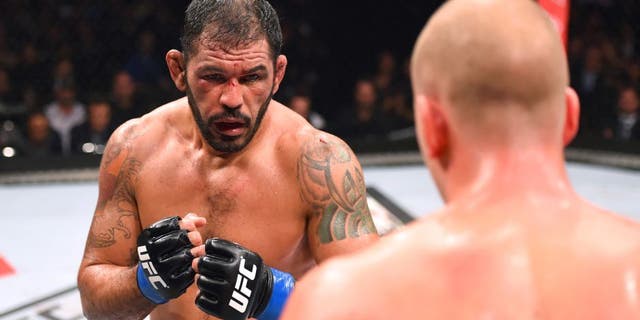 Antonio Rodrigo Nogueira battled for three hard rounds with Stefan Struve on Saturday night at UFC 190, but ultimately fell by unanimous decision -- his third straight loss inside the Octagon.
While the latest defeat didn't come by way of brutal knockout like his previous fight, Nogueira still looked sluggish at times and took a ton of damage from Struve over 15 minutes.
Nogueira has gone just 1-4 in his last five fights with two submission losses and a knockout while only competing five times over the course of nearly four years.
Following this latest loss, UFC president Dana White finally said enough is enough and confirmed at the UFC 190 post-fight press conference that he will no longer allow Nogueira to fight and will urge him to make the right choice to retire.
From the sound of things, Nogueira agreed with him.
"I love Big Nog and I think everybody loves Big Nog. He's such a good guy. He's respected by everybody. He and I actually talked tonight," White revealed.
"I'm done. I don't want to see him fight anymore. He doesn't disagree."
White did say that regardless of whether he's fighting or not, Nogueira will always have a place in the organization just like a trio of UFC Hall of Famers currently on the payroll already.
The UFC has often times brought in retired fighters in one capacity or another to serve as ambassadors for the sport while making appearances on behalf of the company all over the world. Nogueira might be the latest to join that team once White has a chance to sit down with him in the near future to finalize his retirement and his future with a new job at the UFC.
"He and I are going to get together and we're going to talk," White said. "I'm probably going to give him the Chuck Liddell, Matt Hughes and Forrest Griffin deal -- we'd bring him in and make him an employee."
If this truly is the end for Nogueira, the 39-year old Brazilian will end his career with a legendary resume.
He stands as the only fighter to hold both the UFC and PRIDE heavyweight titles while fighting a who's who list of opposition over the course of the past 16 years. There's little doubt that when it comes to the heavyweight division, Nogueira is an all-time great and a Hall of Famer when he finally calls it quits.