Dana White: Conor McGregor no longer wants to fight in Nevada after 'insane' fine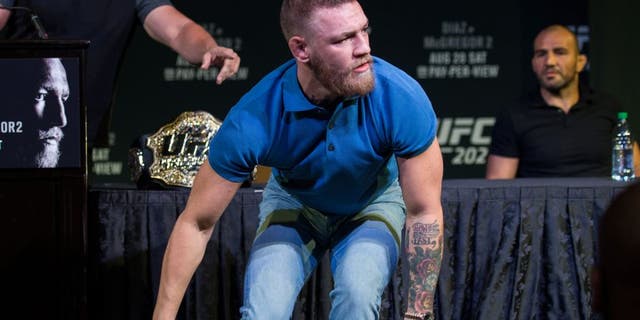 Conor McGregor owes the state of Nevada $150,000 but that might be the last money they get out of the Irishman.
According to UFC president Dana White, McGregor messaged him after the Nevada State Athletic Commission levied a $150,000 fine against him for the UFC 202 press conference melee with Nate Diaz that he no longer wants to fight in the state.
Conor McGregor hit me yesterday and said 'I don't ever want to fight in Nevada again. Ever' -- Dana White
"Now how does that make sense for the state of Nevada? That you're going to try to fine this kid and Nate (Diaz) that much money? It just makes people not want to come fight in our state. That's not a good thing," White told "The Herd" on Wednesday.
McGregor was slapped with a fine for five-percent of his $3 million purse, which equaled out to $150,000 after he threw bottles and cans at Diaz inside the MGM Grand in Las Vegas during a pre-fight press conference in August.
McGregor took responsibility for his part in the melee and apologized to the commission for the incident before the governing body levied the hefty fine.
The Nevada Attorney General's office actually suggested a $25,000 fine but the commission then argued back and forth until settling on a whopping $150,000 fine for the incident.
"Insanity. It's insane," White said about the fine. "Listen, we're regulated by the Nevada State Athletic Commission. I don't know if these guys don't get together and talk before they go in and do these things."
"I don't want to go popping off at the mouth and get myself in trouble either but ridiculous."
Of course, the Nevada Commission was the same group that suspended Nick Diaz for five years after he allegedly tested positive for marijuana for the third time in the state, so it's not all that shocking that a massive fine was levied against McGregor.
That suspension was eventually overturned and reduced down to an 18-month suspension and there's no word yet if McGregor or his team will appeal the fine handed down by Nevada.
Either way it sounds like McGregor is done fighting in the state and White just doesn't understand how that ultimately makes sense for Nevada considering just how much money the Irish superstar generates every time he competes in Las Vegas.
"Conor McGregor doesn't need Nevada," White said. "He can fight anywhere. He can fight in Iowa. We could put his fight off the coast of anywhere. This makes no sense for the state. It's terrible."
McGregor currently holds four out of the top five live gates in Nevada mixed martial arts history although his next bout is already scheduled for UFC 205 in New York. That card taking place at Madison Square Garden on Nov. 12 is expected to be one of the biggest live gates in UFC history as well as McGregor faces lightweight champion Eddie Alvarez in the main event.