Damian Lillard on possibly playing for hometown Warriors: 'Hell no'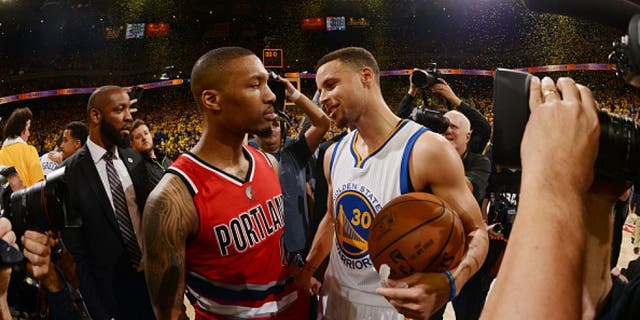 NEWYou can now listen to Fox News articles!
Well, it looks like the Golden State Warriors will just have to make due with four All-Stars on their team and not potentially five.
Portland Trail Blazers' All-Star point guard Damian Lillard was asked on Twitter on Wednesday if he would consider playing for his hometown Warriors someday. The Oakland native a pretty definitive answer.
The Warriors already have Kevin Durant, Stephen Curry, Klay Thompson and Draymond Green, forming a big four the likes of which the NBA arguably has never seen. Lillard, 25, signed a five-year, $120 million extension last summer, so he wouldn't be hitting the free-agent market for some time.
But maybe Durant's move to the Bay Area has created a backlash among NBA stars, pushing them to compete against each other instead of join forces. We'll have to wait until next summer to see where the next crop of NBA superstars lands.