Dak Prescott-Carson Wentz is already being compared to Peyton Manning-Tom Brady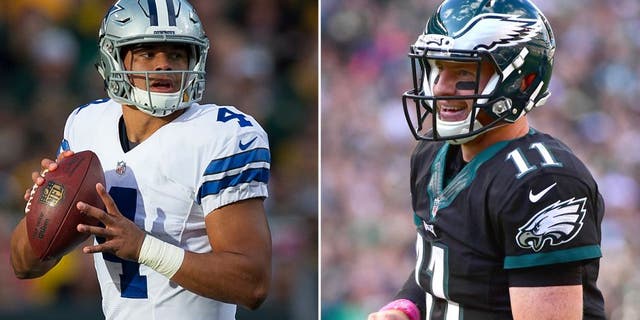 Cowboys QB Dak Prescott and Eagles QB Carson Wentz have burst onto the scene as rookies this season, each leading their team to a winning record and contending for Rookie of the Year. Together, they've thrown 18 total touchdown passes and thrown just four interceptions, boasting a combined record of 9-3.
While both players are still extremely young and just getting their feet wet in the NFL, they're already being compared to some of the greatest quarterbacks to ever step foot on a field.
Eagles wide receiver Jordan Matthews believes their rivalry could be the next Peyton Manning vs. Tom Brady.
"Peyton [Manning] and [Tom] Brady, that's an extremely high honor to be mentioned with those guys," Matthews said, via ESPN. "... I have spoken highly of Carson and know that he could be named with those guys just with more years of playing.
"And I have a high respect for Dak, too. ... You're talking about a guy who is a poised quarterback, he knows what it means to be a leader, he knows what it means to be game-planned for. And I feel like Carson is the same way. The thing I love about Carson is he has that same ability but he also has a chip on his shoulder."
Prescott and Wentz have yet to square off in the NFL and never saw each other in college, either. That will change on Sunday night, however, when they'll meet on the field for the first time ever.
Anticipation is sky-high for that game as it will start what figures to be a decade-long rivalry. There's just one major difference between their potential battles and that of Brady-Manning.
"So you're talking about two guys that could potentially be like a Brady and Peyton rivalry," Matthews said. "The only difference is, you're going to get this two times a year, and possibly playoffs."
Of course, Manning and Brady didn't meet twice a year because they weren't in the same division. However, they did face each other fairly often -- 17 times to be exact, including the playoffs.
Should Prescott and Wentz stay relatively healthy and play for 10 years in the NFL -- all in the same division -- they'd meet at least 20 times, depending on how many years they squared off in the playoffs.
Sunday's meeting certainly could be the start of something historic.