Daily Fantasy Baseball Advice for April 25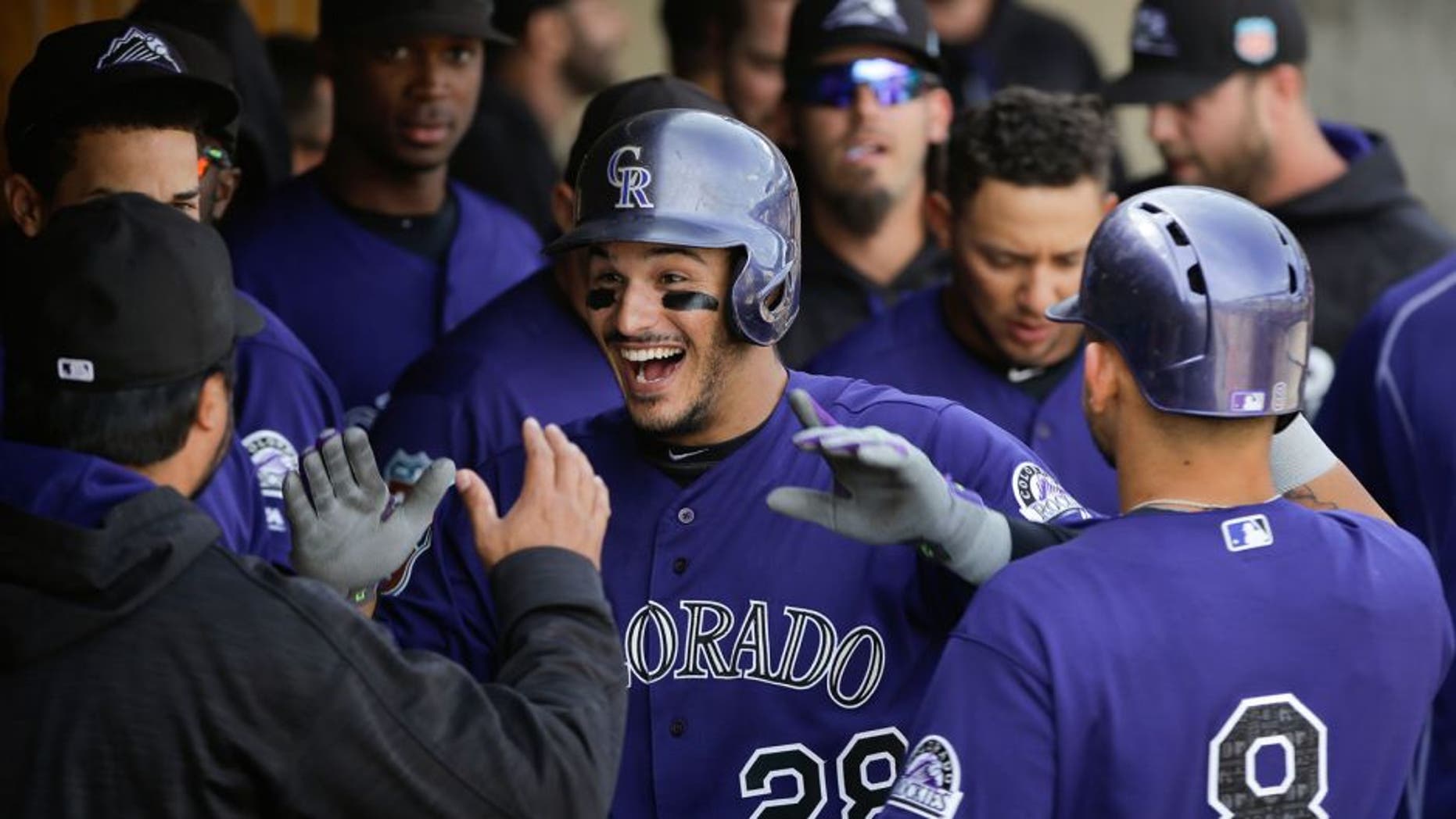 Welcome to today's daily fantasy post! Remember that you can find our posts on the brand-spanking new DFS home page, as well as the fantasy page. Bookmark those sites now!
5 Things to Watch:
1. Here are the three game with the highest over/under, provided by OddsShark...
| Games | O/U |
| --- | --- |
| PIT/COL | 11.5 |
| OAK/DET | 8 |
| BAL/TB | 8 |
Editor's note: The lines for NYY/TEX and CWS/TOR were not listed prior to this post.
2. Scattered light rain projected during the OAK/DET game. If you want Jordan Zimmermann as your pitcher, watch the forecast as first pitch approaches.
3. There are eight left-handed pitchers schedule to start on Monday, including two at Coors Field. Be sure to check those lefty/righty splits to find some value in your offense.
4. For the BvP enthusiasts, Nolan Arenado (.545 against Jeff Locke) and Brian Dozier (.500 against Danny Salazar) are the standouts.
5. Boston travels to Atlanta for Interleague play. If starting, David Ortiz could be a great play. However, he needs to play first base, too.
Yesterday's recap:
Three of the five outfielders suggested by D.J. Foster hit a home run on Sunday, and two didn't start. That outfield, along with Jason Hammel on the mound, won people some money yesterday.
Must-Start of the day: Noah Syndergaard, NYM
In your one-pitcher DFS sites, while he is expensive, Thor is worth the usage. At Citi Field, Syndergaard is 7-2 with a 2.37 ERA. He is also 2-0 (1.72 ERA) in his only two outings against the Reds.
Deal of the day: Yan Gomes, CLE
This season, Gomes has a .240 ISO against southpaws in 26 plate appearances.
Avoid of the day: Adam Jones, BAL
In his career, Jones is 2-22 (.091) with seven strikeouts against Chris Archer.
Stack of the day: Colorado Rockies
I'm not trying to take the easy way out, there's just so few games with a high over/under today. You need to get Nolan Arenado, Trevor Story, and, potentially, DJ LeMahieu in your lineup.
Starting pitchers:
Noah Syndergaard, NYM - "Must-start of the day."
Raisel Iglesias, CIN - On the two-SP sites, Iglesias can be a great complementary option. He has notched at least five strikeouts in three of his four starts this season.
Drew Pomeranz, SD - Will the Padres win? Probably not. However, Pomeranz has recorded at least seven Ks in each outing this year.
Catchers:
Yan Gomes, CLE - "Deal of the day."
Welington Castillo, ARI - He had a .228 ISO against lefties last season.
First basemen:
Paul Goldschmidt, ARI - He loves lefties. Last season, Goldy had a .256 ISO versus LHPs.
Mike Napoli, CLE - There aren't many Indians who do well against lefties, but Napoli hits them well. Last year, he had a .285 ISO against southpaws.
Second basemen:
DJ LeMahieu, COL - This is where strictly playing by BvP numbers can burn you. LeMahieu is 0-10 in his career against Jeff Locke. However, as long as LeMahieu isn't batting at the bottom of the order, I'd add him to my Rockies stack because of the exposure you can get to a high-scoring affair in Colorado.
Kike Hernandez, LAD - This year, he has a .667 ISO against lefties.
Sean Rodriguez, PIT - Has a .400 ISO against lefties this year.
Third basemen:
Nolan Arenado, COL - This year, he has a .625 ISO against southpaws.
David Freese, PIT - If Arenado is too expensive, pivot to Freese. He had a .194 ISO against lefties last season.
Shortstops:
Trevor Story, COL - Though he has cooled off, Story still has a .400 ISO against southpaws this year.
Francisco Lindor, CLE - Last year, he had a .200 ISO against southpaws.
Corey Seager, LAD - He has a .316 ISO against lefties this season.
Jordy Mercer, PIT - He could leadoff for Pittsburgh and has a .231 ISO against LHPs this year.
Outfielders:
Ryan Raburn, COL - When a lefty is facing the Rockies, look to Raburn to produce.
Gregory Polanco, PIT - In 16 plate appearances, Polanco has a .333 ISO this season against lefties.
Andrew McCutchen, PIT - It's hard to have a Pittsburgh stack and not include this guy.
Mookie Betts, BOS - Last year, he had a .192 ISO against righties.
Rajai Davis, CLE - Cleveland is great sleeper stack for Monday. If Davis is batting towards the top of the order, add him.