Daily Fantasy Baseball Advice - April 13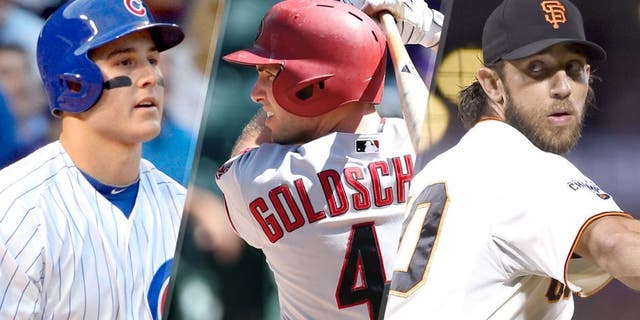 Welcome to today's daily fantasy post! Remember that you can find our posts on the brand-spanking new DFS home page, as well as the fantasy page. Bookmark those sites now!
Also, please scroll to the bottom of this article to see the latest tweets from Ryan Fowler (@FOXSportsFowler), D.J. Foster (@FOXSportsFoster), Adam Meyer (@FOXSportsMeyer) and me (@jhalpin37). That way, if information surfaces for any last minute changes, you can see our thoughts instantly.
Let's get to today's interesting facts, using DraftKings prices. We'll cover the night slate of games, leaving out only Marlins-Mets (1:10 p.m. ET), Angels-A's (3:35) and Rangers-Mariners (3:40) from today's schedule.
Five Things to Watch:
1. Remember the preseason chatter about how new first base coach Davey Lopes would help the Nationals' base-stealing fortunes? It's happening, as the Nats are far ahead of last year's pace on the basepaths. Bryce Harper leads the way with three steals.
2. Yo, BvPers: Braves 1B Freddie Freeman ($4,100) is 12-for-31 with three home runs versus Stephen Strasburg ... Brewers C Jonathan Lucroy ($3,600) is 12-for-29 against Mike Leake ... Dodgers 2B Howie Kendrick ($3,700) is 10-for-18 against Rubby De La Rosa ... Pablo Sandoval ($3,700) is 14-for-39 with a couple of homers against Ubaldo Jimenez, so he might get a start.
3. Aside from Freeman, the Braves' lineup is terrible. Strasburg ($11,300) and the Nats are the night's biggest favorite at -230, with the Cubs and John Lackey ($8,300) not far behind at -210 in their home matchup with the Reds.
4. Indians OF Rajai Davis ($3,100) has a .347 career wOBA vs. LHP, and he's been leading off when he starts against them.
5. If you want to pay up for a hitter that's not playing at Coors Field, it's D-backs 1B Paul Goldschmidt ($5,300), who batted .364 with eight home runs, a 1.081 OPS and a .455 wOBA in 144 plate appearances vs. LHP last season. Good luck against him, Alex Wood.
D.J. Foster will post his Must-Start of the Day, Deal of the Day, Avoid of the Day, Stack of the Day and more later today!