D-backs send Reed to NL East-leading Mets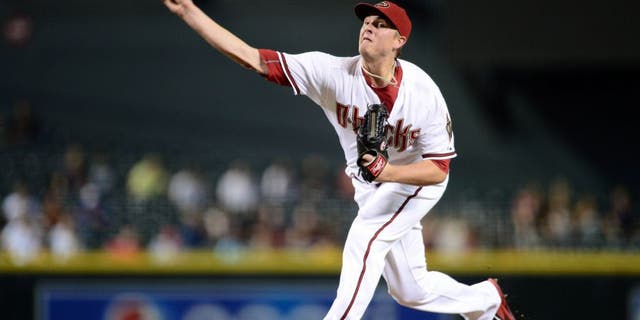 NEWYou can now listen to Fox News articles!
NEW YORK -- The NL East-leading New York Mets tried to bolster their late-inning bullpen Sunday, getting right-handed reliever Addison Reed from the Arizona Diamondbacks for two minor league pitchers.
New York sent right-handers Matt Koch and Miller Diaz to the Diamondbacks.
Koch, 24, appeared in 35 games with Double-A Binghamton this season, going 4-8 with a 3.46 ERA. He posted a 2.54 ERA as a reliever, including a 0.42 ERA in 14 games from May 2-June 10.
Diaz, 23, was 27-25 with four saves and a 3.47 ERA in 97 games (68 starts) across seven seasons in the Mets' farm system. He was 5-12 with a 4.71 ERA in 23 games (21 starts) with High-A St. Lucie in 2015, and he currently ranks eighth in the Florida State League with 98 strikeouts.
Reed is expected to join the Mets on Monday when they play Philadelphia.
"Knowing there's help on the way," manager Terry Collins said before the trade was announced prior to the Boston-Mets game, "it'd be a big lift for us."
The 26-year-old Reed was 2-2 with a 4.20 ERA in 38 games for Arizona this year. Sent to the minors to work on mechanical issues after struggling, he returned a month later in late July and gave up three runs in 16 1-3 innings with 14 strikeouts.
Reed posted 32 saves for Arizona last year and had 40 for the Chicago White Sox in 2013.
Though he's right-handed, Reed has done better against lefty batters this year -- they're hitting only .219 off him.
The Mets, absent from the playoffs since 2006, acquired setup man Tyler Clippard and lefty reliever Eric O'Flaherty earlier this summer. The Mets have their closer in Jeurys Familia, but lacked a proven arm to work the seventh inning and hope Reed can fill the role.
Because he was traded before Aug. 31, Reed would be eligible to pitch for the Mets in the playoffs if they make it.
In the clubhouse after Arizona's 3-2 loss to Oakland on Saturday night, Reed said he didn't know anything official about a trade, although he was aware of media reports that he might be going to the Mets.
"Obviously, that would be awesome," he said. "Don't get me wrong, I love it here, but they (the Mets) are 5 1-2 games, 6 games up. That would be awesome to go over there and help the team with the ultimate goal of getting a ring. That's my ultimate goal before I'm done playing. I want to get to the World Series. If that happens this year, that would be awesome."
Reed is under team control through 2017. He filed for arbitration last offseason and is making $4,875,000 this year. He will be eligible for arbitration again next year.