CUP: Truex, NAPA Stick With MWR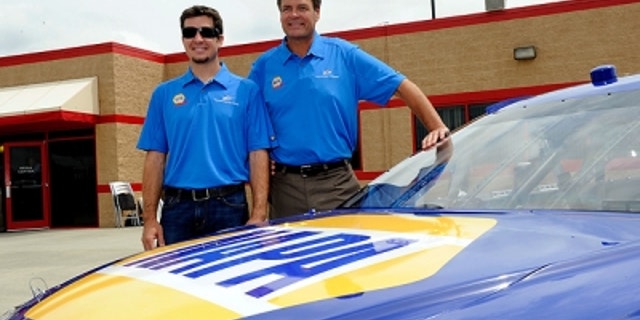 When NASCAR President Mike Helton shows up at a press conference, it's usually a big deal.
Such was the case Friday at Atlanta Motor Speedway, where Helton put in an appearance at a Michael Waltrip Racing press conference announcing that both driver Martin Truex Jr. and sponsor NAPA had agreed to respective three-year contract extensions with the team.
Truex is having a career year now. He's fifth in the NASCAR Sprint Cup points standings and hasn't finished lower than 11th in the last six races. Keeping him in the MWR fold was important for the team.
But signing NAPA might have been even bigger, given how tough the economy is and how few sponsors serve as the primaries for a single car for the entire season.
"NASCAR doesn't normally get involved with this type of announcement, with a sponsor and a driver and a team," said Helton. "But we're particularly excited, I think, about today's announcement … You've got one of the most highly visible, recognizable retail partners in our sport that's re-upping for multiple years today."
Team owner Waltrip understandably was enthused about the new deal.
"I think the key thing about today is Martin's (Truex, Jr.) attitude toward getting it done," said Waltrip. "He came to Rob (Kaufmann, team co-owner) in April and said, 'I want to drive this car next year. Y'all figure it out. I'm your guy.' That's the kind of guy you want driving your race car. NAPA saying, 'We're in. We want to go forward.' It just allows us to focus on what we have to do."
For his part, Truex said he was glad to get the deal done.
" It's been an awesome road — it's been a lot of fun to be a part of," said Truex. "It's been a lot of work, a lot of ups and downs, but Michael and I got together last year at Texas in April and he said, 'Look, we're going to get our cars better, but I need you to help me.' Ever since, we've been on an awesome road to improvement. With those guys integrating me into the team and giving me some say and making me feel like I'm part of something has probably been one of the coolest and proudest moments of my life. It's been a lot of fun and I just want to keep it going."
Tom Jensen is the Editor in Chief of SPEED.com, Senior NASCAR Editor at RACER and a contributing Editor for TruckSeries.com. You can follow him online at twitter.com/tomjensen100.