CUP: Texas Power Rankings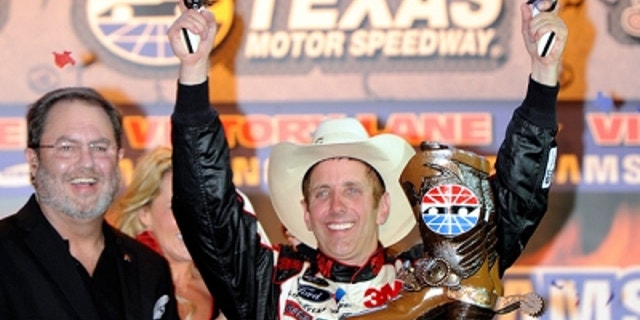 With a victory in the Samsung Mobile 500 and the NASCAR Sprint Cup points lead, Greg Biffle moves to the top spot in this week's FOXSports.com/SPEED.com Power Rankings.
This week's list:
1. GREG BIFFLE — Jimmie Johnson dominated, but Biffle got a huge victory, breaking a 49-race winless streak. He could be the first three-series champion in NASCAR history. Last week: 3rd.
2. JIMMIE JOHNSON — The five-time champion led nearly half the laps and had a great run until being balked by lapped traffic late in the race, which allowed Biffle to catch and pass him. Last week: 5th.
3. MATT KENSETH — Another top-five finish for Kenseth, as the Roush Fenway Fords looked stout all weekend, as they usually do at Texas. Last week: 4th.
4. TONY STEWART — For a guy who'd won seven of the previous 16 races, Stewart was pretty bad all night, finishing 24th, Last week: 1st.
5. DALE EARNHARDT JR. — Five top-10 finishes in seven races is impressive for Earnhardt, though he was not fast at the end. Last week: 2nd.
6. MARTIN TRUEX JR. — A pole and a sixth-place finish made for a great weekend for Truex, who has been strong all season. Last week: 7th.
7. KEVIN HARVICK — He was the fastest car early in the race, but Kevin Harvick could finish no better than ninth. Last week: 8th.
8. RYAN NEWMAN — With a 21st-place finish, Newman was as out to lunch as his boss and teammate Stewart was. Last week: 6th.
9. DENNY HAMLIN — None of the Joe Gibbs Toyotas were as fast at the Michael Waltrip Racing ones. Wow. Last week: 9th.
10. KYLE BUSCH — He finished one spot ahead of teammate Hamlin, but 11th place was not what Busch was looking for. Last week: 17th.
11. JEFF GORDON — The drive of the race belonged to Gordon, who qualified 34th and finished fourth. Last week: 11th.
12. CARL EDWARDS — He finished in eighth, but was nowhere near his Roush Fenway teammates all night. Last week: 13th.
13. AJ ALLMENDINGER — Not as good as Martinsville, obviously, but 16th wasn't bad for the 'Dinger. Last week: 14th.
14. CLINT BOWYER — Given that Martin was third and Truex sixth, Bowyer's 18th-place finish in the third MWR entry was a bummer. Last week: 12th.
15. BRAD KESELOWSKI — Fuel-supply woes meant Keselowski finished way back in 36th. Last week: 10th.
16. KASEY KAHNE — Believe it or not, Kahne's seventh-place run was his first top-10 finish of the season. Last week: 20th.
17. KURT BUSCH — Major props to the elder Busch and Phoenix Racing, with a run of 13th at Texas. Last week: Unranked.
18. JOEY LOGANO — A 20th-place was Logano's best result in the last three races. Last week: 16th.
19. ARIC ALMIROLA — Eh. Almirola finished 22nd, the midpoint of the field. Last week: 18th.
20. PAUL MENARD — It wasn't a bad race for Menard, who came home 19th. But it wasn't great, either. Last week: 19th.
Tom Jensen is the Editor in Chief of SPEED.com, Senior NASCAR Editor at RACER and a contributing Editor for TruckSeries.com. You can follow him online at twitter.com/tomjensen100.