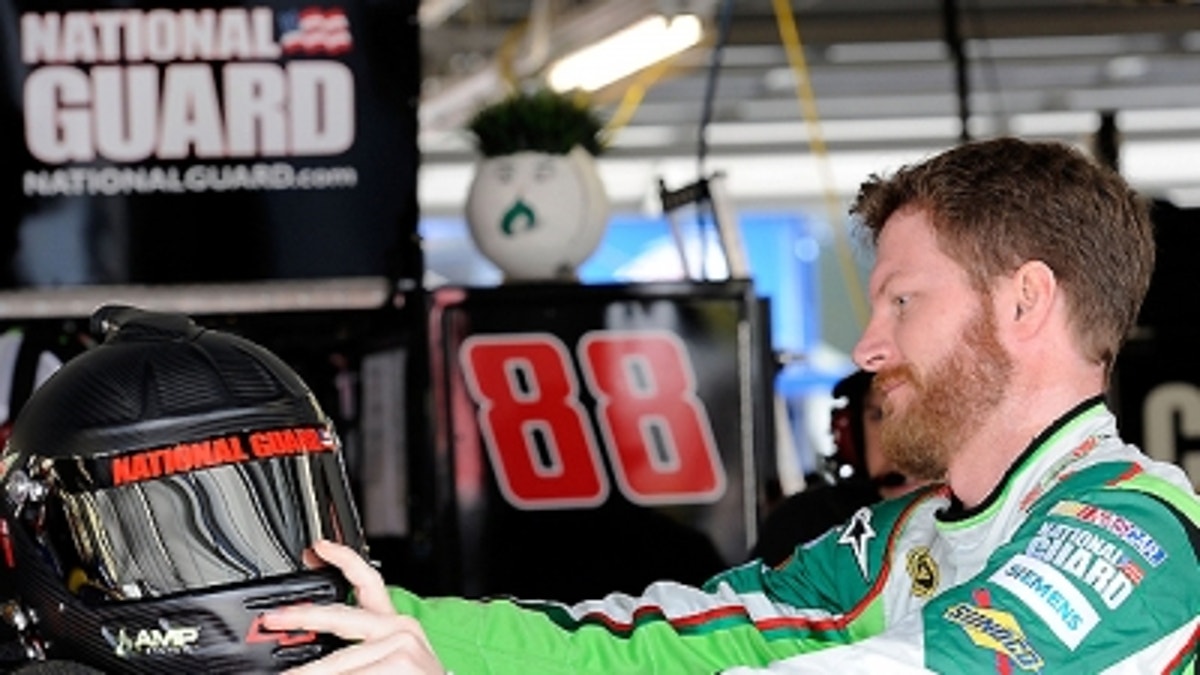 Kyle Busch had a dramatic victory in the Capital City 400 at Richmond International Raceway Saturday night, but for the first time, race runner-up Dale Earnhardt Jr. moves to the top of the FOXSports.com/SPEED.com Power Rankings.
This week's list:
1. DALE EARNHARDT JR. — With his fourth top-three finish in nine races this year, Earnhardt served notice that he's for real. NASCAR's most popular driver has it all going on right now. Last week: 6th.
2. GREG BIFFLE — For the first time all season, the points leader appeared well and truly lost for virtually the entire weekend, qualifying 28th and finishing 18th. That was Biffle's worst result of the year. Last week: 1st.
3. JIMMIE JOHNSON — A pit-road tire penalty cost Johnson a shot at victory, but he rallied to finish sixth. He's close to breaking through with a victory and when he does, look out. Last week: 4th.
4. MATT KENSETH — Last week: 5th. The quiet one's streak of three consecutive top-five finishes ended with an 11th-place run at Richmond, which was still respectable.
5. TONY STEWART — A bad pit stop during a late-race debris caution cost Stewart his third victory of the season, and it's only April. Still the man to beat. Last week: 8th.
6. DENNY HAMLIN — A fourth-place run is nothing to be ashamed of, but Richmond is Hamlin's home track and he wasn't even the best driver on his own team. Last week: 2nd.
7. MARTIN TRUEX JR. — Coming into Richmond, Truex finished eighth or better in five consecutive races. Saturday night, he ended the evening in 25th. Go figure. Last week: 3rd.
8. CARL EDWARDS — An unforced error cost Edwards the race. You have to wonder what was going through his head when he jumped the restart lined up next to Stewart late in the race. Ghosts of 2011? Last week: 9th.
9. KYLE BUSCH — Any pro athlete will tell you that occasionally it's better to be lucky than good. Saturday night at Richmond, Kyle Busch was both as he won his first race of the year. Last week: 11th.
10. KEVIN HARVICK — Richmond is a great track for Harvick. So how come he finished 19th Saturday night? Last week: 7th.
11. CLINT BOWYER — Best in class among the Michael Waltrip Racing Toyotas, Bowyer finished seventh, one spot ahead of teammate Mark Martin. Last week: 12th.
12. RYAN NEWMAN — When your boss finished third and should have won, it's hard to feel good about finishing 15th, as Newman did. Last week: 10th.
13. BRAD KESELOWSKI — NASCAR's reigning king of social media came home ninth, a solid if unspectacular result. Last week: 14th.
14. MARK MARTIN — The ageless one took the pole at Richmond and finished eighth. Despite missing two races, he's top 20 in points. Last week: Unranked.
15. PAUL MENARD — A 13th-place finish was Menard's best since a 10th at Bristol. Last week: 18th.
16. JOEY LOGANO — JoLo wasn't just behind his JGR teammates Kyle Busch and Denny Hamlin, he was way behind. Last week: 13th.
17. JUAN PABLO MONTOYA — For the second week in a row, Montoya finished 12th, as his season is improving. Last week: 19th.
18. KASEY KAHNE — For the third consecutive race, Kahne finished eighth or better, coming home a season's-best fifth. He still hasn't led a lap all year. Last week: 17th.
19. JEFF GORDON — Fast car, bad finish. Deja vu all over again for Original Four-Time. Last week: 16th.
20. JAMIE McMURRAY — Three consecutive 14th-place finishes for Jamie Mac. Last week: Unranked.
Tom Jensen is the Editor in Chief of SPEED.com, Senior NASCAR Editor at RACER and a contributing Editor for TruckSeries.com. You can follow him online at twitter.com/tomjensen100.