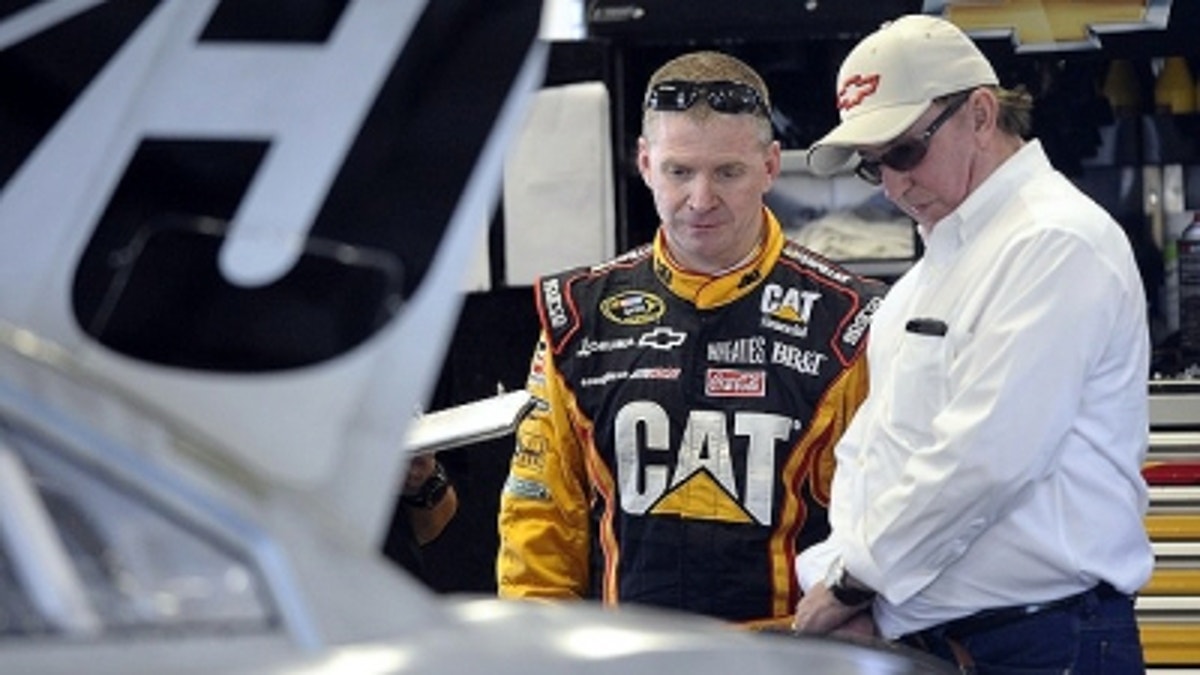 The numbers would wow many other teams.
A driver in the Chase. Twelve victories over the past three seasons. Almost $15 million in race winnings last year.
But these are Richard Childress Racing's numbers, and, as Childress, a team owner in the Sprint Cup Series since 1969, has pointed out, they are not acceptable.
The biggest number in Childress' mind might be 18, as in 18 years since RCR won a Cup championship. In 1994, Dale Earnhardt Sr. scored his seventh and Childress' sixth title, and the award banquet head table has been void of RCR representatives since then.
It has been a long drought.
Last season provided an illustration of the almost tidal-like ebbs and flows of RCR since Earnhardt's death in the Daytona 500 in 2001. The team has been on a rollercoaster of ups and downs, with the highest never quite reaching high enough and the lows prompting questions about what the answers might be.
RCR put Kevin Harvick in the Chase last year, but he was a non-factor in the run for the championship. More disturbingly, his late-season victory at Phoenix was the only win scored by the team's three drivers (Harvick, Jeff Burton and Paul Menard) all season and was Harvick's first win in 45 races.
Now begins a new season, and questions linger. The new year is likely to be either a successful turnaround season for RCR or a tough transition year as hard changes await.
Harvick, who replaced Earnhardt in the lead RCR car, will be in his final season with the team after agreeing to drive for Stewart-Haas Racing next year. All of his 19 career wins have been scored in RCR cars, and he will be stepping out the back door of the shop even as Childress' grandsons, Austin and Ty, take on bigger driving roles. Austin, racing full-time again this year in the Nationwide Series, is scheduled to run a few Cup rides as a prelude to a probable full-schedule run in 2014.
It's clear that the Dillon boys are the future of the family team, but that doesn't mean that Childress and his management/technical group are viewing this year as a throwaway. Childress hired Dr. Eric Warren last year as the organization's new technical director and has given him wide latitude in reforming the culture at RCR.
Warren's main directive involves putting all three Cup teams – plus the No. 78 Chevrolets of satellite team Furniture Row Racing and driver Kurt Busch – on parallel tracks so that the positives of each impact the others.
"The Cup teams had kind of over the years diverged into acting like individual single-car teams somewhat," Warren said. "It's a little bit of a cultural shift, building some systems to where the cars are identical."
Changing the landscape in a huge team with hundreds of employees is easier said than done, having been compared in the past to turning a large ship in a small harbor.
Harvick says all indications are that the plan is bearing fruit.
"I think as we've gone through the (preseason) tests, every team's had a specific test plan, and everybody's gone back and evolved their cars to what each thought was the best result on the track," he said. "That's obviously one of his (Warren's) big priorities, to come in and kind of narrow down the things that need to be tried, find the answers to them without all three teams having to go down different paths to do that. We'll get places a lot quicker if we have three people working on it than one."
Evidence that the concept works appeared in the twilight of last season at Phoenix, where RCR avoided the embarrassment of a winless campaign with Harvick's victory. Menard had been the best of the three drivers in practice on the tough one-mile track, so Harvick's No. 29 team switched to Menard's setup.
"After practice was over, we took everything out of the 27 car and put it in our car for the race and were able to adjust on it to my driving style and were able to win the race," Harvick said.
Of course, the goal is to have a smoother three-in-one system so that such changes don't have to be made at a track on race weekend. The hard work happens away from the track in the preparation process.
"Eric is one of those guys [with] great organizational skills," Menard said. "[He's] a very structured guy, and if anybody can do it, it's him.
"Every team wants all their cars to work together. Any multi-car team – that is the goal is to get everybody sharing information, but it's tough to do. You just have to bring everybody together. Have meetings, sit everybody down to have open dialogue on what everybody is working on to try to go to the same focus. What you don't want to do is have two cars do the same thing over and over and just waste time.
"Having Eric come in toward the end of the year, I think we saw our performance pick up a little bit toward October, November. … I feel like we have got good speed, and I think the test in Las Vegas in a couple of weeks is going to be one of the biggest tests of the year just to understand what these cars do."
Austin Dillon, who has watched the Cup operation from the Nationwide side of the shop, said the key to more success in the top series is acceptance of the grand plan.
"You've got to have guys who are willing to want to change," he said. "You can't change it on your own. They've got to be wanting to buy into the same program.
"Our Nationwide shop did a good job of making sure we were on the same program when we got to the track. Our drivers worked well last year together. I think this year the Cup drivers are going to be better together, also. We'll have to kind of corral and make it more like we had at the Nationwide shop.
"It's not an ego thing. It's more of you take what's faster and go with it. In today's world, you have to have good teammates to push you and use their setups. We'll see how it goes."
The Denver, Colorado-based Furniture Row team is the wild card in the situation. With strong links to RCR (the team has a seat at all technical discussions) and with a smart driver in Busch, the information flow can work in both directions.
"The setups for all four cars were there on one sheet," Busch said. "The crew chiefs are in a meeting, the engineers are in a meeting, the drivers are in a meeting. You have all the top guys spread around into the meetings, as well. It's like we are the fourth car. Instead of it saying 33 on the door, it says 78 and Furniture Row."
The search for RCR's seventh title begins now.
Mike Hembree is NASCAR Editor for SPEED.com and has been covering motorsports for 31 years. He is a six-time winner of the National Motorsports Press Association Writer of the Year Award.