CUP: Preseason NASCAR Sprint Cup Power Rankings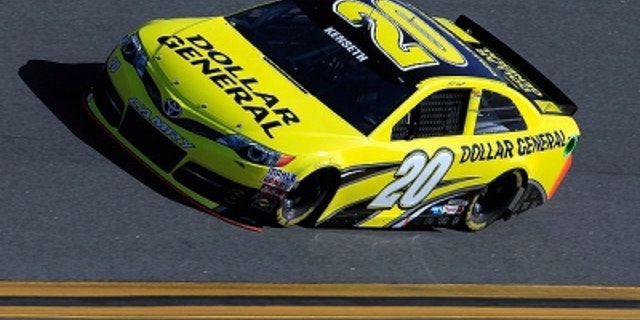 Our long national nightmare is about to end. This Saturday night, live on FOX, the NASCAR Sprint Cup season opens with the running of the newly renamed Sprint Unlimited, a 75-lap non-points race from Daytona International Speedway.
And that means it's time for our first 2013 edition of the FOXSports.com/SPEED.com Power Rankings.
1. MATT KENSETH — There are a ton of great drivers and teams out there this year. Kenseth's move to Joe Gibbs Racing helps him in terms of equipment, just as he helps the team in terms of stability. He could well win his second championship this year.
2. KASEY KAHNE — Six races into the 2012 season, Kahne was 31st in points. He ended the year fourth, his highest ranking ever. Another year at Hendrick Motorsports will put him in great shape to win his first NASCAR Sprint Cup title.
3. JIMMIE JOHNSON — Underestimate the five-time champion at your own risk. There's no reason to assume Johnson won't be in the title mix again this year. He, crew chief Chad Knaus and the No. 48 Hendrick Motorsports team are that good.
4. BRAD KESELOWSKI — Make no mistake about it, Keselowski had a sensational championship run and looks like he's ideally positioned to win more than one title. But it probably won't be this year.
5. KYLE BUSCH — The arrival of Matt Kenseth and the elimination of mechanical issues from last year will help Busch to his highest points finish since joining Joe Gibbs Racing.
6. CARL EDWARDS — After the season from hell, Cousin Carl comes back in a big way, wins a couple of races and becomes relevant in the championship discussion again.
7. DENNY HAMLIN — The newly minted father will have another good year in his JGR Toyota, though he may slightly trail his teammates. Still, look for Hamlin to win at least a couple of races this year.
8. TONY STEWART — Since the formation of Stewart-Haas Racing in 2009, Tony Stewart has never missed the Chase for the Sprint Cup, and he won't miss it this year, either.
9. CLINT BOWYER — After a career year in 2012, the runner-up jinx may come back to strike Bowyer. It may be hard for Michael Waltrip Racing to catch lightning in a bottle twice in a row.
10. JEFF GORDON — Still hard-charging, Gordon will continue to post solid numbers, but the odds of finally capturing that elusive fifth championship aren't especially good with the tough competition.
11. DALE EARNHARDT JR. — Junior Nation will see their man make the Chase again this year, but that might be about as far as he gets. Still, a strong runner on a regular basis.
12. GREG BIFFLE — It will be a year of transition for Roush Fenway Racing, and Biffle should hang on to make NASCAR's playoff round yet again.
13. KEVIN HARVICK — Speaking of transitions, Kevin Harvick is in his last year at Richard Childress Racing, which is going through another round of rebuilding.
14. MARTIN TRUEX JR. — Like his teammate Clint Bowyer, Truex will have an uphill struggle to duplicate his success from 2012.
15. JOEY LOGANO — A change of scenery will do a world of good for Logano, who is still just 22 years old. He could make the Chase.
16. RYAN NEWMAN — With Danica Patrick full-time at SHR and Kevin Harvick inbound, this could be an uncomfortable year for Newman.
17. ARIC ALMIROLA — All things considered, Almirola did pretty well last year and should be good again this season.
18. RICKY STENHOUSE JR. — It will be a year of hard knocks for Stenhouse, as rookie seasons almost always are.
19. MARCOS AMBROSE — Another driver who had a solid season and could do better if things work out this year.
20. JEFF BURTON — After a couple of tough seasons at RCR, Burton will be looking to get back on track.
Tom Jensen is the Editor in Chief of SPEED.com, Senior NASCAR Editor at RACER and a contributing Editor for TruckSeries.com. You can follow him online at twitter.com/tomjensen100.