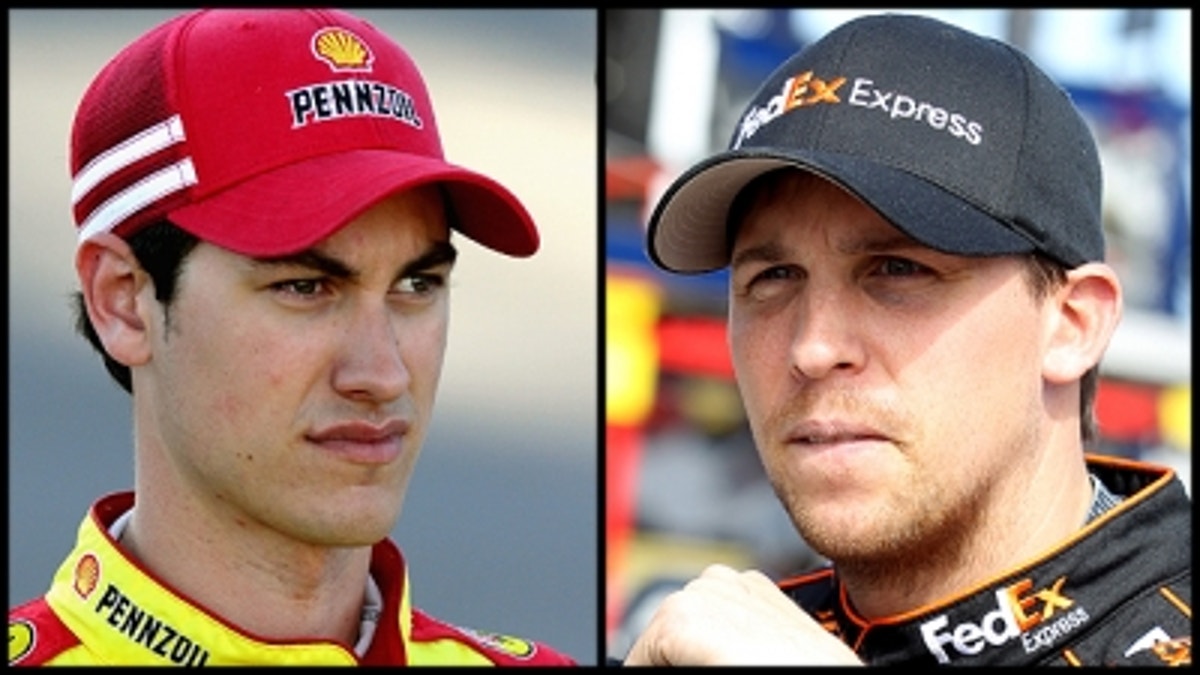 NASCAR Sprint Cup drivers love a good controversy — as long as it doesn't have anything to do with them.
Thus, Friday at Auto Club Speedway, other drivers were able to be philosophical about last week's dust-up at Bristol Motor Speedway between Denny Hamlin and Joey Logano.
A quick recap: Hamlin turned Logano around during the race, Logano confronted Hamlin on pit road after the race and the two engaged in a epic war of words on Twitter Sunday night.
Clint Bowyer, one of the sport's true free spirits, thought it was all great theater. Last year, Bowyer was in the biggest scrum of the year after he got dumped by Jeff Gordon at Phoenix International Racing and then sprinted down pit road to search for Gordon.
But now that other folks are feuding, Bowyer thought the Bristol drama was quite a show.
"I'm so proud of Denny and Joey," Bowyer said Friday. "They did such a good job. It was great. It's just good to see that. Emotions are high at a short track and things happen and no different than what happened at Phoenix. It's entertainment. It's fun to see people get pissed off ... It was fun there for a minute. I was really wanting to announce the 'Duke City', you know, 'Here he comes, it was an uppercut ladies and gentleman,' but it didn't get that far unfortunately."
Defending Sprint Cup champion Brad Keselowski, who is Logano's teammate at Penske Racing, said he understood Logano's frustration.
"My interpretation is Joey had a really fast car and got spun out and didn't get to achieve the result I think he felt like he was capable of and I felt like he was, too," said Keselowski. "As a driver I know that is frustrating. He has had great cars and little things keep popping up to hold him back."
Keselowski said he knew the feeling.
"It is very reminiscent of where I was at the start of 2011," said Keselowski. "I know how that eats at you and you just get madder and more frustrated. Maybe that was good. Maybe that was the release he needed last week and maybe he can put that behind him and capitalize on the strengths he has."
Tom Jensen is the Editor in Chief of SPEED.com, Senior NASCAR Editor at RACER and a contributing Editor for TruckSeries.com. You can follow him online at twitter.com/tomjensen100.