CUP: Kyle Busch 'Tired' At Finish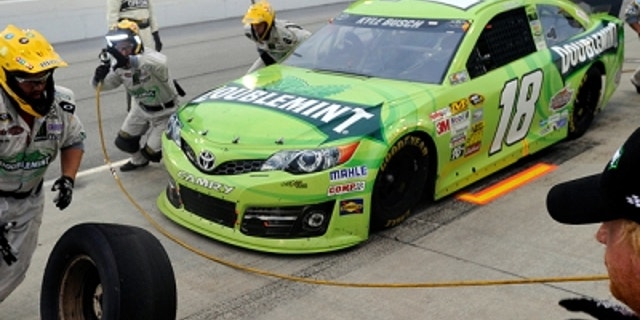 This one had to hurt for Kyle Busch.
After leading 265 (of 367) laps in one of the Sprint Cup season's most prestigious races, Busch lost the handling on his car over the final 15 laps and fell out of the top five in the Southern 500.
Busch finished sixth on a night when virtually no one could race with him – until the final 20 miles. He slowed slightly and then brushed the wall at least twice over the closing laps as winner Matt Kenseth and four other drivers roared past him.
Busch left the track without comment after the race. Team members said his right rear tire was going down near the end of the race.
"I've never been so disgusted in a race car," Busch said over his team radio as he began to slow. "This is … pathetic. I think it's coming apart. It's getting worse."
And it did.
Before the decline near the end of the race, Busch was so strong that he was able to fend off a major challenge from Kasey Kahne with 35 laps to go in a meeting that perhaps renewed the testy rivalry that has been brewing between the pair.
Kahne challenged Busch from second place on a restart, taking first place momentarily and then losing control of his car and sliding through turn one. Television replays were inconclusive as to whether Busch clipped Kahne's car.
Kahne said he wasn't sure if his car was hit by Busch's, but "he blew that entry into [turn] one."
Denny Hamlin, who finished second, said Busch "definitely won't be happy, that's for sure. It's tough to have a car that is as dominant as his and on the last run whatever happens happens. It's part of the game of racing."
Busch led 153 consecutive laps gunning for the end of the race before Kenseth passed him with 13 to go.
Mike Hembree is NASCAR Editor for SPEED.com and has been covering motorsports for 31 years. He is a six-time winner of the National Motorsports Press Association Writer of the Year Award.