CUP: Junior – A Good Start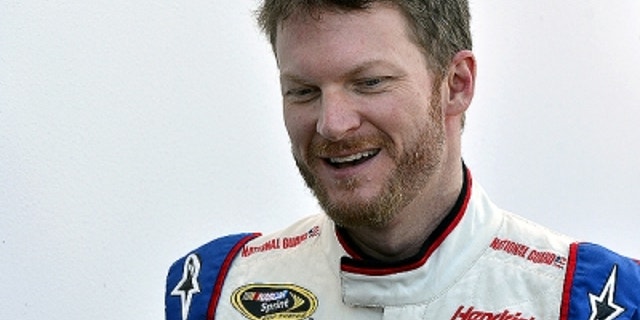 Other than logging a couple of wins, Dale Earnhardt Jr. couldn't have started the Sprint Cup season much better.
He was second at Daytona and fifth last week at Phoenix and had a realistic shot at winning both races. He won $1.1 million in the season opener and followed up with 47 laps led at Phoenix – with obviously solid cars both weeks.
Earnhardt Jr. is tied for second with Brad Keselowski in the early-season point standings, only eight behind leader and Hendrick Motorsports teammate Jimmie Johnson.
Can Junior's smooth ride continue?
He said he feels good about his car for Sunday's Kobalt Tools 400 at Las Vegas Motor Speedway – this after running 120 laps over two testing sessions Thursday. He was fifth fastest in the first session and 21st in the second and didn't show any disappointment when Friday's track activities were washed out.
"We had pretty good speed right off the trailer (Thursday) and just worked with a lot of things," Earnhardt Jr. said. "Everybody had a lot of time yesterday to really kind of get up to speed. By the end of the day, everybody was running about the same times.
"We had more than enough practice really this weekend, so I'm not too worried about what we didn't get to do today (Friday) because yesterday was way more than we needed, to be honest. Feeling good, just hope we get a little time just to make sure everything is working right and get a couple laps Saturday just to make sure everything is cool, and we'll be ready to go."
Earnhardt Jr. said running so well in points two races into the season won't encourage him to take gambles to get race wins. He's already on the edge, he said.
"I don't know what we could have done to really gamble to win any differently," he said. "I mean, it's not like there is some window of opportunity in every race where everybody could just take a wild gamble. We're running as hard as we can run every lap, and that's all you can do."
Junior said it will be interesting to see how the Gen-6 cars respond to their first long-distance run on a 1.5-mile, high-banked track Sunday.
"The track and the surface of the track has a lot to do with it, the particular tire and the compound of the tire, the side wall, the softness of the compound," he said. "All those things really play a big role. Look at the variety of race tracks we have on the circuit. Every one of them is completely different. We joke about how the mile-and-a-halves are all the same and all that stuff, but every one of them is different in their own way.
"You're not going to go to every race track and see the exact same race. The surfaces are different, the tires are different and the way you set the cars up and the setups that you run in the cars are different. The geometry that you might run in one place versus another is different. Everything about the whole race weekend and the process is different, so you're going to see a different race everywhere you go. I think as we learn more and more about these cars and what makes them work and drive better, things can only get better as far as the product we put out there every week.
"It's a new car, there's a lot of things to learn and that's what everybody in the garage is trying to do is trying to get an advantage on the rest of competitors out there."
Mike Hembree is NASCAR Editor for SPEED.com and has been covering motorsports for 31 years. He is a six-time winner of the National Motorsports Press Association Writer of the Year Award.