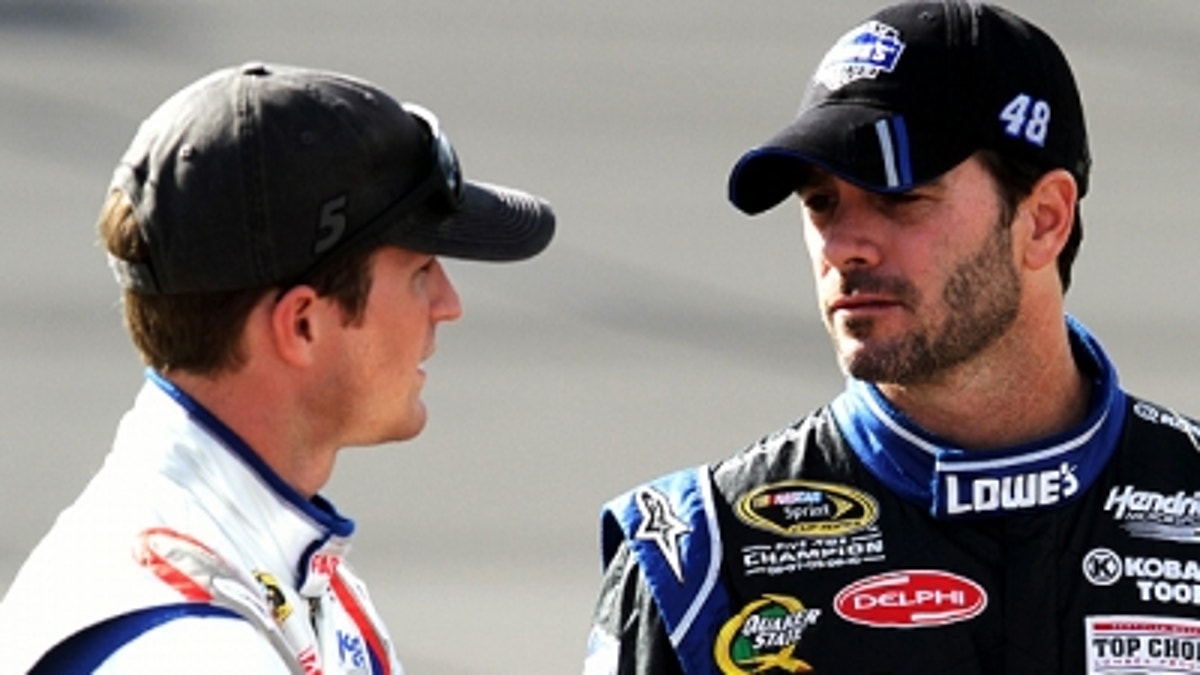 Will Jimmie Johnson's stiffest competition in the Chase for the Sprint Cup come from his own Hendrick Motorsports teammates?
The No. 48 team showed tremendous speed on Sunday at Chicagoland Speedway with a solid second-place finish, but Kasey Kahne was coming up in Johnson's rearview mirror in the closing laps. Tony Stewart, with Hendrick engines and chassis, posted a solid sixth and Dale Earnhardt Jr. was eighth.
Although Jeff Gordon exited the race early when his throttle stuck and the No. 24 ended up in the wall, he was running fourth before the wreck.
For Johnson, who is currently second in the points standings and shooting for a sixth Cup title, having four teammates as his competition in the Chase is "a weird scenario."
"There are points that I've experienced in the past where I'm thankful I had my teammates that I was racing against because I knew what their set-ups were and I knew what their mindsets were in our debriefs," Johnson said. "And there were other times when I went in and their chests were all pumped out feeling great and we weren't running good and I'm like, 'Oh god, I wish I didn't know that.'
"It just comes back and forth. Some weeks you're thankful for it. Other weeks you wish you didn't know. In the end, I'd rather know what I'm up against. I'd kind of prefer racing teammates then the years I've raced against Denny (Hamlin) or against Carl (Edwards). If they're giving good interviews, that's all you see what their mindset is. But when you're a teammate, you really know what they're thinking, what the vibe is. I kind of prefer that."
Although the communication isn't as in depth between Stewart-Haas Racing and Hendrick Motorsports since Darian Grubb departed for Joe Gibbs Racing, according to Stewart, the No. 14 Chevrolet didn't appear to lose much in the Chase opener.
Among his in-house Hendrick teammates, Johnson insists there continues to be an open playbook policy.
"Always have, always will," Johnson said. "Absolutely. That's always been the case. I know there's been a lot made of it – perhaps the hole is getting smaller but it's impossible for the data not to transfer. It's all there. It's always been there.
"I'm not going to sit down and say to Jeff, 'If I go four inches lower into Turn 3 ... ' I'm not going to give away those secrets ... but we never do anyway. Those are the things that have been discussed. You just don't spit those out, but you wouldn't anyway. You're not going to tell a guy how to beat you.
"But we work together to make our package better."
Here are 10 other topics to ponder over the next week:
1. Get with the program
Ford experienced a miserable outing at Chicagoland Speedway. Greg Biffle (13th) was the top-finishing Ford on Sunday. Certainly, Matt Kenseth appeared to have a top-10 car until his shock broke. Despite the strength of Roush Fenway Racing on intermediate tracks, the company is 12 for 12 on the 1.5-miler. While all 'cookie cutter' tracks are not as uniform or created equal, the lack of speed overall was somewhat baffling.
2. The spoiler
Kyle Busch's fourth-place finish on Sunday was proof he will not go quietly into the Chase. Busch didn't lead laps in the Geico 400, but he battled from 21st into the top 10 by Lap 55. And as the race wound down, both Brad Keselowski and Jimmie Johnson were warned of the No. 18 Toyota's position on the track. It won't be the last time.
3. The little things
Denny Hamlin entered the Chase as one of the favorites, but a critical error by his gasman while fueling the car knocked the No. 11 Toyota from a top 10 contender to 16th. But Hamlin and Co. are far from giving up. After the race, @DennyHamlin tweeted: This is 1 week of 10. We will win next week ... Scott wood is my gas man. Been with me since the beginning. He came up to me after the race and said he just made a bad mistake. ... He's one of the best in the garage. Took courage to come up to me after and apologize. #teamwork" Hamlin dropped to fourth in the standings, 15 points behind leader Brad Keselowski. Earlier this year, he finished second at New Hampshire to Kasey Kahne.
4. Wait until next year
As competitive as the Chase field is this season, Jeff Gordon likely watched his championship hopes expire when the throttle stuck on the No. 24 Chevrolet on Sunday, resulting in a 35th-place finish and a 47-point deficit. Given the consistency of the frontrunners, there would have to be trouble at the top for four-time to get back into the game.
5. Petty blue/oval
An announcement is expected in the next week regarding Richard Petty Motorsports' desire to remain in the Ford Racing camp next year. Although the organization discussed possible moves with Chevrolet, Toyota and Dodge (before its decision to exit the sport at season's end), Ford offered the company the best prospects for the future.
6. Speaking of RPM ...
Aric Almirola, who is auditioning for a ride next year, put on a heck of a show in the No. 43 Ford with his new crew chief Todd Parrott – his third pitboss this year. Almirola qualified second, led the first three laps and ran in the top five until he entered the pits during his first green-flag stop. NASCAR falsely accused his pit crew of letting tire roll loose, served Almirola a drive-thru penalty and then acknowledged the error of its ways. Despite giving Almirola his lap back, mired in traffic he could only muster a 17th-place finish. After the race, @Aric_Almirola tweeted: "Happy with my racecar all weekend. Felt like we were a solid top 10 car but NASCAR cost us our track position. Made our day a lot tougher."
7. Becoming a fixture
Chicagoland Speedway offered the stage for a lot of sponsor announcements – including support of Ricky Stenhouse Jr.'s rookie Sprint Cup effort for next season. Stenhouse's next Cup race will be at Dover in two weeks. But the 24-year-old defending Nationwide Series champ returned to the media center on Saturday after winning the Dollar General 300 (plus taking the points lead) and again on Sunday – but just to scour the room for cookies.
8. In case you missed it ...
Danica Patrick posted a career-best 25th-place finish in a Sprint Cup race on Sunday. In her sixth Cup start and third on an intermediate track, Patrick broke into the top 25 at Chicagoland Speedway – her hometown track. Nevertheless, she was two laps off the pace.
9. Next nine
Generation Next was represented well by Ryan Blaney, who won his first NASCAR Truck race on Saturday night in Iowa in just his third start. The victory was also the first for team owner Brad Keselowski. "Two really big wins for me personally and professionally," said Keselowski following his own win on Sunday. "And to see Ryan and his family together in Victory Lane was just one of those heap good karma moments. It just felt good. I remember being in Victory Lane for my very first Nationwide win and my mom and dad being there, and seeing that with Ryan, that felt really good and knowing that was able to happen, and in some small shape I was able to help him do that." Blaney's next race is Friday night in Kentucky.
10. And now this message ...
Kevin Harvick carried a public service announcement on the hood of his No. 29 Budweiser Chevrolet at Chicagoland that read: Designate a Driver. Harvick's sponsor Anheuser-Busch's "Global Be(er) Responsible Day" is Friday. But for the last 30 years, A-B has been committed to the cause.