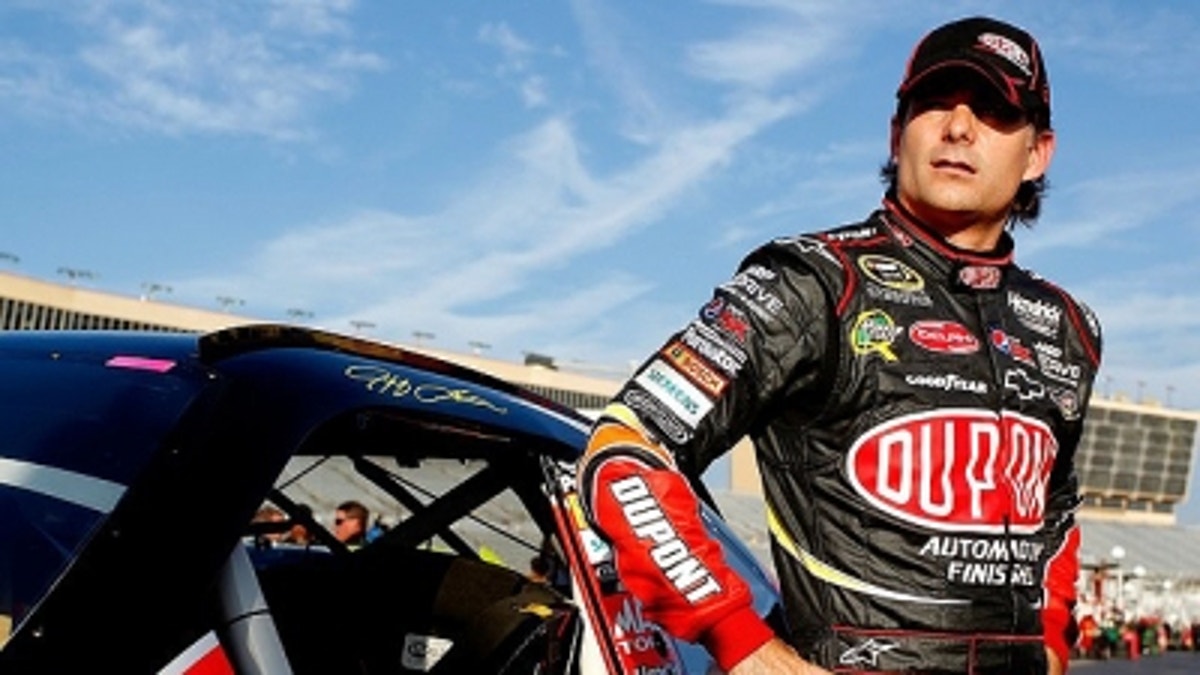 Jeff Gordon wears many hats.
The four-time NASCAR Sprint Cup champion has won 86 races in a storied career that stretches back a full two decades.
He has donated untold millions of dollars to pediatric cancer research and a whole host of philanthropic causes, including annual trips to Africa to build hospitals and fight AIDS.
Thanks to sponsorship from Drive To End Hunger, Gordon has become a tireless advocate of eliminating hunger, especially in the elderly.
He is also a doting father and loyal husband, and a trusted friend and business partner of team owner Rick Hendrick.
Although Gordon is one of the more respected — and more senior — drivers in the NASCAR garage, he is not someone who typically makes headlines with sharply opinionated comments or bombastic tirades. In other words, he's no Brad Keselowski or Tony Stewart when it comes to drawing attention to whatever is on his mind.
Which makes Gordon's comments at Atlanta Motor Speedway all the more intriguing.
Like a lot of his fellow drivers, Gordon loves the fast 1.54-mile track because it's worn out and has character. And he's no fan of the spate of repaving projects in NASCAR in recent years. This year alone, Michigan International Speedway, Pocono Raceway and Kansas Speedway have gotten new asphalt, while Phoenix International Raceway, Daytona International Speedway, Darlington Raceway, Charlotte Motor Speedway, Las Vegas Motor Speedway and Bristol Motor Speedway have all been repaved in the last decade.
When tracks get new asphalt, speeds go way up and generally, the quality of racing goes down as cars go faster.
Gordon is unhappy about it. Loudly unhappy, which is unusual for him. And he pulled no punches at Atlanta on Friday.
"I think we're hurting the sport by doing all these repaves," Gordon said. "I really try to always see all the different sides of the business side of the sport, whether it be from the team standpoint, the driving standpoint, sponsorship, tracks, NASCAR, you know, and give the benefit of the doubt. So I understand a lot of these tracks, especially after Daytona (red flagged twice for a pothole in the 2010 Daytona 500), right? The surface has an issue, comes apart, they've got to repave, and they start looking at all these tracks, we cannot let that happen again."
Gordon is particularly upset about the new track surfaces.
"I think they've really missed it on what they're repaving the surfaces with," he said. "It's extremely disappointing to me. I feel like it's challenging Goodyear in ways that's got to be frustrating to them. It challenges the teams, everybody. I think it takes away from putting the best race out there, as well."
The four-time champion wants to see change in the future.
"I just hope more tracks start looking at how they repave, how you accomplish what's out there right now with a repave because we're paving these racetracks with what we're trying to pave highways with," said Gordon. "And this is not a highway; this is a racetrack."
And in the case of Atlanta, it's a track the drivers enjoy.
"We come here. This place is old, worn out, cracks everywhere, and yet every driver loves it," said Gordon. "We're slipping and sliding around. The racing is pretty spectacular."
Carl Edwards agreed.
"If the Lord were to take me from this earth right now, there would be a place in Heaven that would look a lot like this racetrack," said Edwards. "I mean, it is awesome. It's as good as it gets. If there was a way to repave tracks just like this, this is how they should pave all of them."
Tom Jensen is the Editor in Chief of SPEED.com, Senior NASCAR Editor at RACER and a contributing Editor for TruckSeries.com. You can follow him online at twitter.com/tomjensen100.