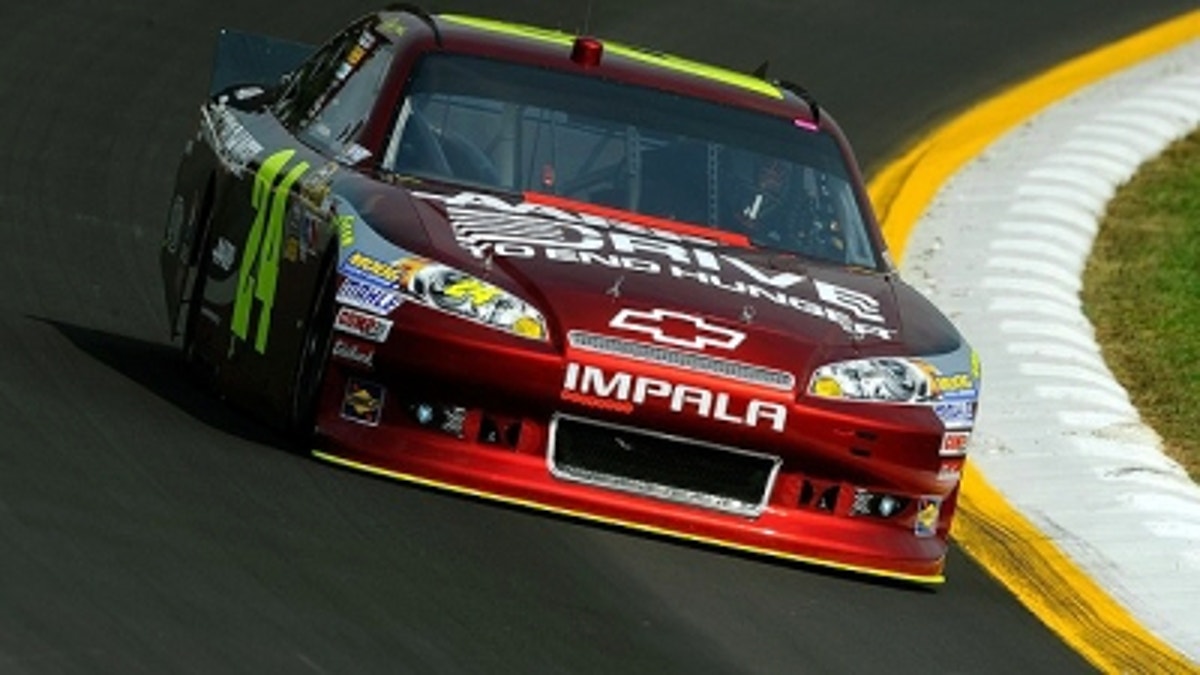 The worm finally turned – and in a big way – for Jeff Gordon.
Gordon, who has been plagued by all manner of bad luck this season, got two big breaks Sunday in the Pennsylvania 400 at Pocono Raceway – one supplied by teammate (and apparent winner) Jimmie Johnson and the second from the weather.
Gordon, who had not won in 31 races, was leading with 62 laps to go when a severe thunderstorm forced an early end to Pocono's second race of the season. The win is Gordon's first of the year and immediately put him in solid position to grab a wild-card entry into the Chase for the Sprint Cup.
The race started almost two hours late because of mid-day rain and was stopped again by late-afternoon showers. Then a thunderstorm rolled in from the west and wrapped the speedway in heavy rain and near-darkness.
NASCAR called the race, ushering Gordon into the winners column.
Kurt Busch brought out the caution on lap 86 when he lost control and hit the outside wall, bunching the field for a restart even as weather threatened from the west.
Johnson, Matt Kenseth, Brad Keselowski, Greg Biffle and Kasey Kahne were the leaders for the restart.
There was trouble almost immediately.
Johnson slipped up the track in the first turn and into Kenseth, who sailed into the outside wall and back across the track, where he was T-boned by Denny Hamlin.
Gordon slipped through the chaos to take the lead as cars scrambled and the caution reappeared.
Kyle Busch and Dale Earnhardt Jr. had strong cars in the race's early going, but both were in the garage before the halfway point.
Busch apparently broke a brake rotor on lap 19 and slammed hard into the turn-one wall. He was running 10th.
On lap 49, Earnhardt Jr. drove into the garage with transmission trouble. Junior took the series point lead at Indianapolis last week, but his Sunday trouble ended an unusual streak. Entering the Pocono race, he had completed every lap of competition this season.
Junior eventually returned to the track 32 laps behind the leaders.
Mike Hembree is NASCAR Editor for SPEED.com and has been covering motorsports for 30 years. He is a six-time winner of the National Motorsports Press Association Writer of the Year Award.