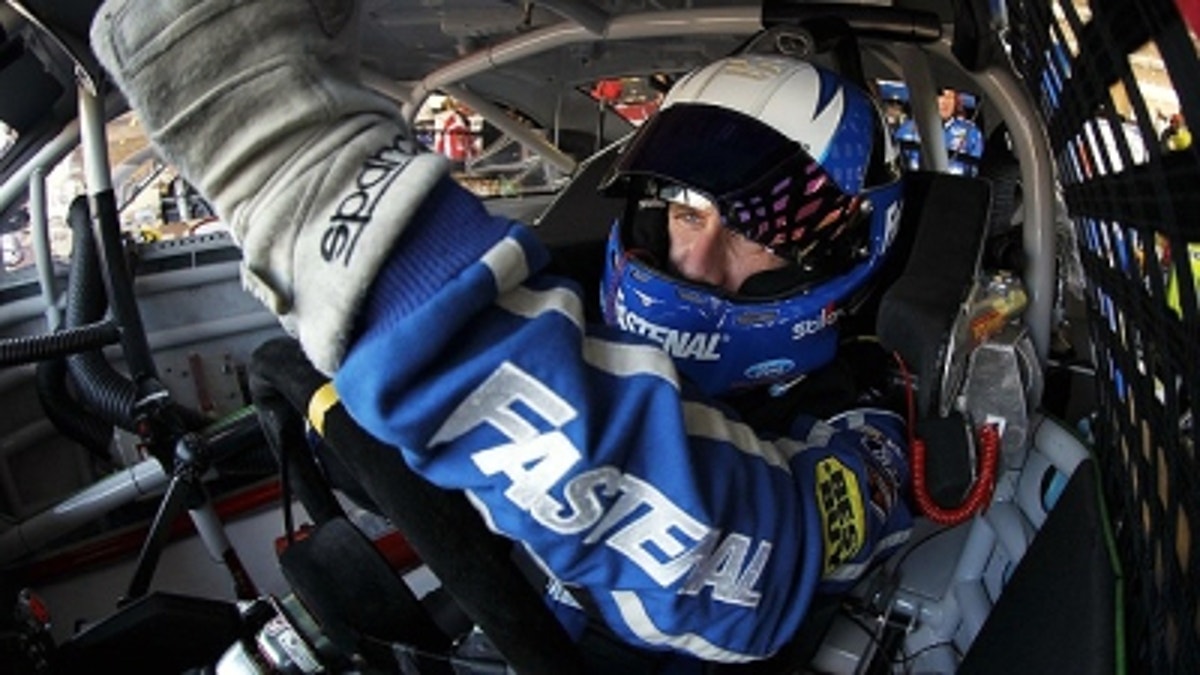 The 2012 NASCAR season is history, and next week the 2013 campaign begins in earnest with testing at Daytona International Speedway Jan. 10-12.
With new race cars this year and a fair number of driver-crew chief swaps in the off-season, teams will be looking to come out of the box strong in the first few races of 2013. For a select handful of drivers, this season will give an opportunity to exorcize some ghosts of 2012 and get back on the winning track.
Here are five drivers who need to rebound strongly in 2013:
1. CARL EDWARDS — Nobody needs to open up the season on a high note more than Carl Edwards, the driver who arguably had the most disappointing 2012 season of any expected championship contender. From 2008-2011, Edwards finished second in points twice and fourth once. Last year, he slumped to 15th, as he was consistently the least competitive of the three Roush Fenway Racing drivers. Only twice in 36 races did Edwards lead more than one lap. That's just pitiful.
For 2013, steady veteran Jimmy Fennig will take over as the crew chief of the No. 99 Roush Fenway Racing Ford Fusion, as Edwards will try to break a 69-race losing streak that stretches back to Las Vegas in 2011.
2. KYLE BUSCH — By his own admission, Kyle Busch had the worst season of his NASCAR career in 2012, winning just one Cup race and getting shutout entirely in the NASCAR Nationwide and Camping World Truck Series. After Jeff Gordon knocked Busch out of the Chase for the Sprint Cup at Richmond, Busch had a very strong final 10 races, with seven top-five and eight top-10 finishes. In all fairness to Busch, his driving remained strong, but he had a whole series of reliability issues with his Joe Gibbs Racing Toyotas, at one stretch suffering engine problems in three consecutive races. This could be a strong comeback year for Busch.
3. JEFF BURTON — The last two years have not been good ones for Burton, one of the sport's most articulate drivers. After finishing 20th in points in 2011, Burton ended the 2012 season up just one position to 19th. That said, 2012 was a serious down year for the entire Richard Childress Racing organization, which was probably the most disappointing of NASCAR's elite teams. Luke Lambert, who worked as Burton's crew chief in the second half of 2011, moves back to the RCR No. 31 Cup team after spending a year as Elliott Sadler's NASCAR Nationwide Series crew chief. Burton needs to bounce back in a big way this year.
4. JOEY LOGANO — At the start of 2012, Logano talked about how the addition of crew chief Jason Ratcliff was a breath of fresh air and represented a new start after an increasingly tense relationship with former crew chief Greg Zipadelli. Unfortunately for Logano, the results weren't a whole lot different, although he did win at Pocono. But after finishing 17th in points and missing the Chase for the fourth consecutive year, Logano was cut loose by Joe Gibbs Racing to make room for Matt Kenseth. Fortunately for Logano, his new home at Penske Racing seems like it will be a good fit, and new teammate Brad Keselowski likes him. Big things expected this season.
5. DALE EARNHARDT JR. — It's wrong to say Dale Earnhardt Jr. had a bad season in 2012. On many levels, he had a very good one, as he made the Chase, broke his four-year winless streak and posted 10 top-five and 20 top-10 finishes in his No. 88 Hendrick Motorsports Chevrolet. But two concussions at Kansas and Talladega forced Earnhardt to miss two starts, and he failed to crack the top five in his final 10 races of the season. It will be important for Earnhardt to come out of the box strong to establish confidence that he and his team are still strong in 2013.
Tom Jensen is the Editor in Chief of SPEED.com, Senior NASCAR Editor at RACER and a contributing Editor for TruckSeries.com. You can follow him online at twitter.com/tomjensen100.