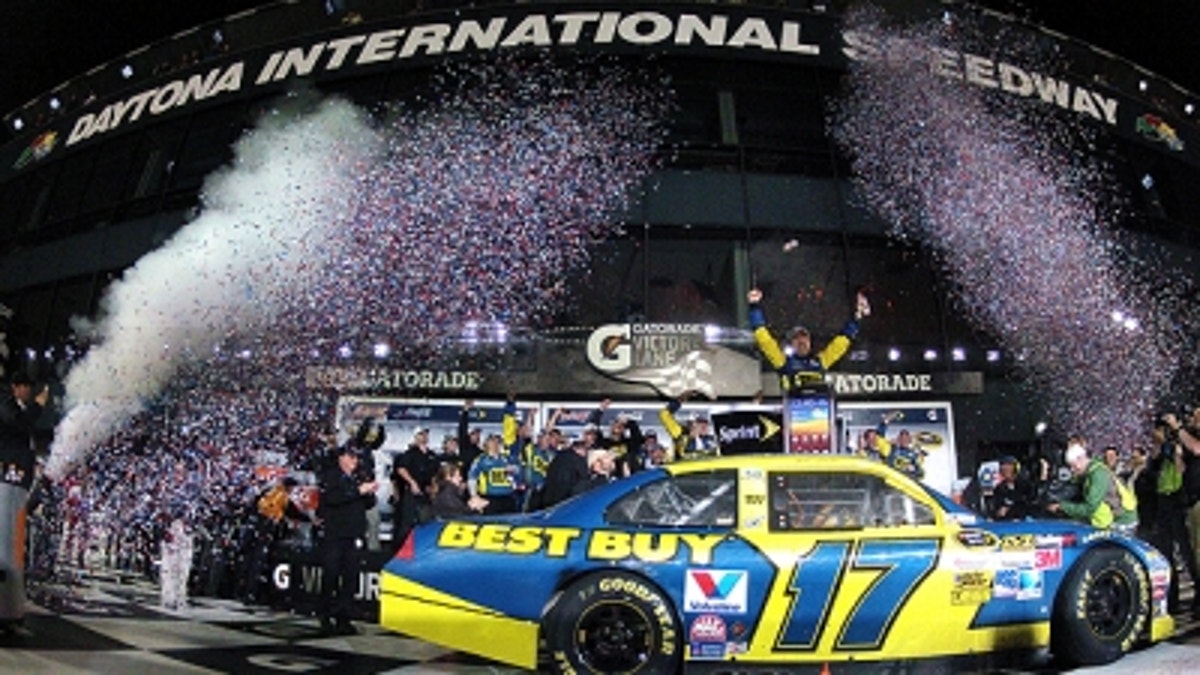 A wild night at Daytona, as Juan Pablo Montoya hits the jet dryer on track and Matt Kenseth wins his second Daytona 500.
Here are this week's FOXSports.com/SPEED.com Power Rankings.
This week's list:
1. MATT KENSETH — To the victor goes the spoils. Congrats to Matt Kenseth on a dominating victory in the Daytona 500, his second in the last four years. Last week: 8th.
2. DALE EARNHARDT JR. — NASCAR's most popular driver made another strong run, earning his second runner-up finish in the last three Daytona 500s. Last week: 10th.
3. DENNY HAMLIN — Not only was Hamlin best in class among the Toyotas, he was light years ahead of his Joe Gibbs Racing teammates. Last week: 11th.
4. JEFF BURTON — An impressive run for Burton, who finished fifth with a Richard Childress Racing Ford that clearly wasn't as fast as the Roush Racing Fords. Last week: 15th.
5. GREG BIFFLE — Yes, Biffle finished third behind Kenseth and Earnhardt, but he didn't do an especially good job on the green-white-restart, losing a spot to Earnhardt. Last week: 12th.
6. KEVIN HARVICK — Truthfully, it's a little surprising that Harvick, a great restrictor-plate racer, didn't make more noise than what he did during Daytona Speedweeks. Last week: 1st.
7. PAUL MENARD — It wasn't exactly Menardi Gras, but it was a strong effort for Menard, whose sixth-place finish meant all three RCR Chevrolets finished in the top seven. Last week: 19th.
8. JOEY LOGANO — Although he looked a little nervous in traffic at times, Logano finished ninth, which made for a good evening. Last week: 20th.
9. CARL EDWARDS — Considering he started on the pole and considering two of his teammates finished first and third, eighth place was a bit of a letdown for Edwards. Last week: 4th.
10. MARK MARTIN — Mark Martin hates racing at Daytona, but in his first race with Michael Waltrip Racing, he finished 10th, which was slightly better than his two teammates. Last week: Unranked.
11. MARTIN TRUEX JR. — The New Jersey native finished 12th, but he moves up one spot here for winning the $200,000 halfway leader bonus.
12. CLINT BOWYER — Finished 11th, which was right between teammates Mark Martin and Martin Truex Jr. Last week: 18th.
13. MARCOS AMBROSE — Another one of the fast Fords, the affable Aussie had a good run to end the long night with a top-15 finish. Last week: 13th.
14. TONY STEWART — Frankly a somewhat disappointing run for the reigning NASCAR Sprint Cup champion, who finished 16th, but was never much of a factor. Last week: 6th.
15. KYLE BUSCH — Like Stewart, Busch should have been a factor in the race, but never really was. Last week: 5th.
16. KASEY KAHNE — Not a good Speedweeks for Kahne, who finished 29th and really didn't show much over the two weeks. Last week: 2nd.
17. JUAN PABLO MONTOYA — It wasn't Montoya's fault — something broke on his car — But he hit the dang jet dryer on track and caused a huge fire. Last week: 17th.
18. AJ ALLMENDINGER — A disappointing first race for the 'Dinger at Team Penske, as he had contact on pit road with Ryan Newman. Last week: 14th.
19. JEFF GORDON — Original four-time didn't even make it to halfway before his engine expired. Bad Speedweeks for Hendrick Motorsports. Last week: 9th.
20. JIMMIE JOHNSON — Forty-second place and a points penalty? Horrible start to the season for Johnson. Last week: 3rd.
Tom Jensen is the Editor in Chief of SPEED.com, Senior NASCAR Editor at RACER and a contributing Editor for TruckSeries.com. You can follow him online at twitter.com/tomjensen100.