CUP: Clock Ticking For Gordon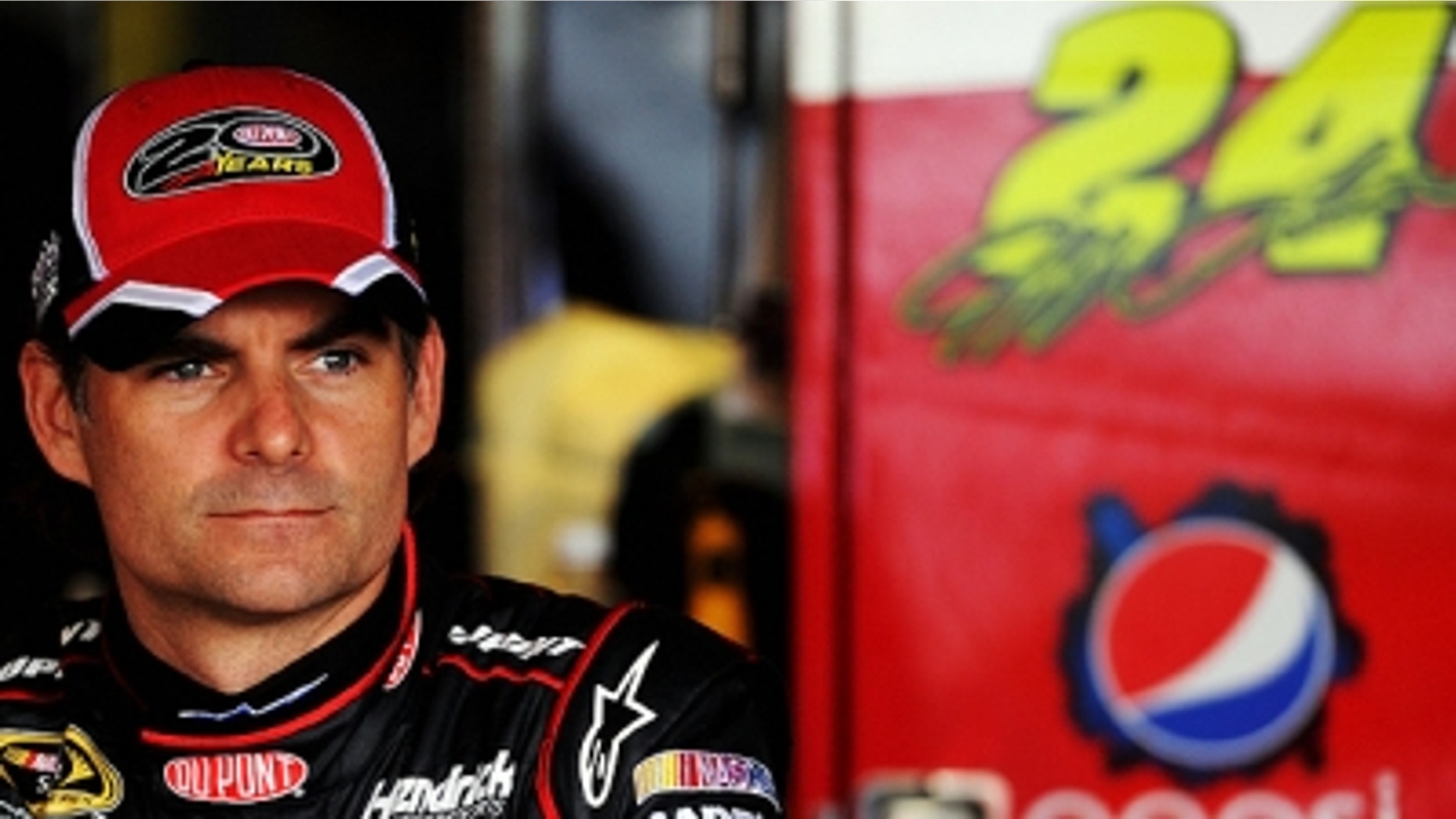 Jeff Gordon's 2012 NASCAR Sprint Cup season already is in deep, deep trouble.
The four-time series champion and driver of the No. 24 Hendrick Motorsports Chevrolet comes into Sunday's FedEx 400 benefiting Autism Speaks at Dover International Speedway mired in 22nd in points, more than two full races in points behind 10th-place Carl Edwards.
So far this season, Gordon has been upside down, lost an engine, had a tire cut by a teammate and gotten wrecked from behind in a race he led coming to the white flag. In the midst of a stretch where his Hendrick teammates have been victorious in each of the last three weekends, Gordon's season has been hit with every plague short of locusts, frogs and boils.
Realistically, the only way Gordon will make the Chase for the Sprint Cup is if he wins at least two of the 14 races remaining in NASCAR's regular season. When that regular season ends at Richmond in September the top 10 drivers in points and the two drivers with the most victories in positions 11-20 will make the Chase.
Right now, Brad Keselowski is 11th in points with two wins, while 13th-place Ryan Newman and 15th-place Kasey Kahne each has won once. On top of that, 18th-place Juan Pablo Montoya and 20th-place Marcos Ambrose will be huge favorites to win this summer's two road-course races.
As if that wasn't daunting enough, last year, seven drivers who won one Sprint Cup race each failed to make the Chase.
The bottom line is Gordon needs to win and win soon. He won't make the Chase on points and it's highly unlikely he'll do it with a single victory. He needs to win more than one race.
Which brings us to Dover International Speedway.
Gordon has four victories and 14 top-five finishes here, the home track to his long-time sponsor Dupont. But the last time he won here was June 2001, 22 Dover races ago. Still, Gordon is cautiously optimistic about his prospects.
"I think we are capable of getting some wins before this Chase," Gordon said Friday at Dover. "Hopefully, we get enough to get us into it."
During qualifying on Saturday, Gordon nearly slapped the wall and wound up 14th. Not bad, but behind teammates Jimmie Johnson (second) and Kasey Kahne (13th).
Where he starts hasn't been the problem for Gordon this season, though.
"Our reason for not being in the top-10 has nothing to do with the way we have been running in the races," said Gordon. "It is the way we have been finishing."
Even the ample resources of Hendrick Motorsports haven't stopped the problems this season.
"There is nothing that you can, no information you can get from your teammates that can stop you from having a blown tire at Darlington, cut tire at Bristol and blown engine at Kansas," said Gordon.
Even last weekend, when Gordon broke a streak of four consecutive finishes outside the top 20 with a seventh-place finish in the Coca-Cola 600, he should have had more to show for his night.
"I had one of the best cars I've ever had in the 600 this past week," said Gordon. "Unfortunately, we had to pass about 50 cars to get there to that seventh-place finish just because we got caught out on the green flag stop there. That got us way behind. Then we all knew that the two-tire stop was a risky stop there at the end because we were the last one on two tires so that didn't work out either, but we really rebounded that last run."
And so, Gordon will go for it again tomorrow, with each passing race more critical to his Chase hopes.
"We are running good enough to certainly be in the top-10 in points," he said. "To get that resurgence we just have to start continuing to put finishes together just like we did last week."
Tom Jensen is the Editor in Chief of SPEED.com, Senior NASCAR Editor at RACER and a contributing Editor for TruckSeries.com. You can follow him online at twitter.com/tomjensen100.