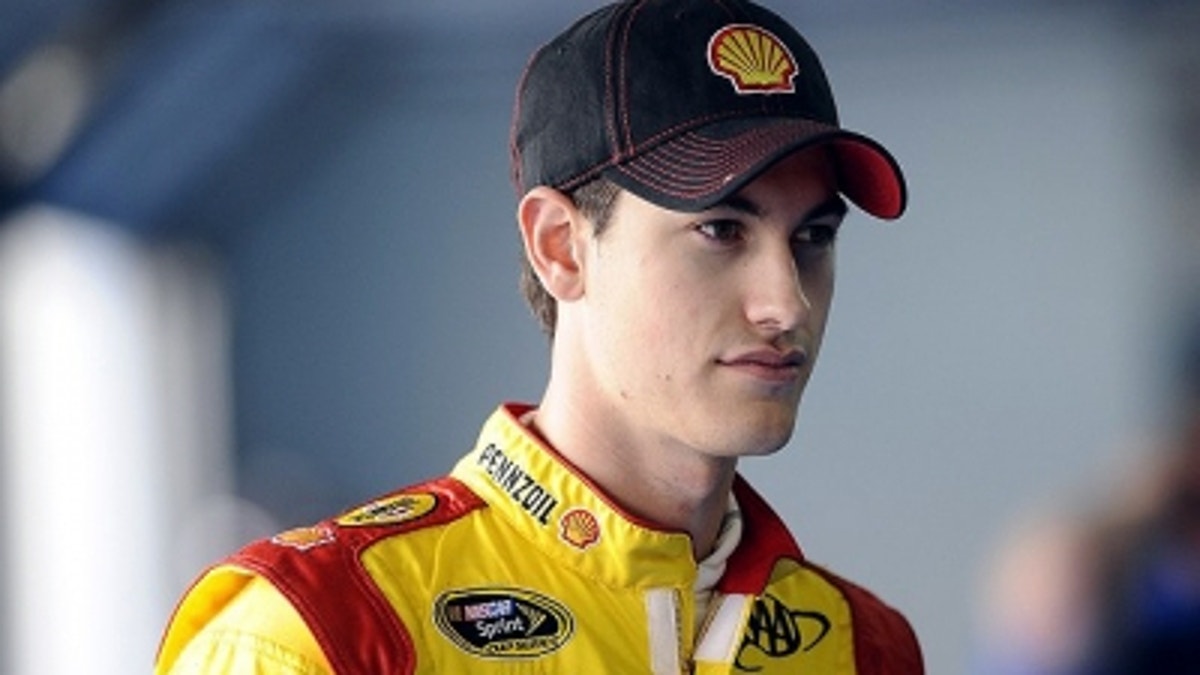 Joey Logano and Brad Keselowski figure to make an interesting mix next season in their first year as teammates at Penske Racing.
They are drivers with different personalities – Keselowski the sometimes brash and always colorful out-front guy, Logano the more subdued "younger brother" type who is still evolving out of his shell four years into his Sprint Cup career.
Logano, who ran test laps with Keselowski for the first time this week at Charlotte Motor Speedway, said he plans to take advantage of his new teammate's somewhat unusual approach to the sport.
"He won the championship, so he's pretty good," Logano said, smiling. "It's really cool to have a teammate that's a student of the sport, that really studies it and will push me to do things differently.
"I think the coolest thing that Brad is able to do is he's able to think outside of the box – like way outside the box. I think that's interesting to me, to see the way his mind works. I've learned a lot the last couple days, and the ways he thinks through a race car is a little bit different than normal, and I think that's cool.
"I think it's good to have a little bit of both on a team, so I can learn a lot on the way he leads a team and drives a race car and the way he sets up his car. I seem to be a little bit different, the things he looks for. There are a lot of different things. The way he drives his car is a little bit different than me, too. Taking some of his techniques, I've tried them out there, and there are pros and cons to everything, but it gives me a few more tools to work with when I'm out there."
It will be a totally new year for Logano. He's moving to a new team (from Joe Gibbs Racing), a new brand (Ford, from Toyota) and, along with every other driver, a new model car.
After two days of testing at CMS, Logano – like virtually every other driver who commented – said he's impressed with the 2013 model. He said he expects faster speeds in the corners (with the increased downforce) but somewhat slower speeds on straightaways (because the cars have more drag).
"You've got a lot more downforce, but these cars have more drag, so you don't really feel like you're accelerating that much down the straightaway," he said. "That's why I'm saying when you take the horsepower away you don't feel like you're accelerating much at all, but, like I say, you've got downforce.
"You're going through the corners a lot faster than what we did before because you're in the gas a lot more. I think at certain tracks you will [be faster than previously] and certain tracks you won't. It's interesting. It is cold out, so that's a lot of temperature and that's a lot of speed in the race track right now. And with it being cooler out today (Wednesday), we're going even faster, so you take all of that with a grain of a salt."
Kasey Kahne ran laps faster than the CMS qualifying record Wednesday.
"I think speeds will be up," Logano said. "I think there is definitely some possibility for track records being broken, but we have to kind of wait and see what the package is going to be when it's all said and done here from NASCAR."
Mike Hembree is NASCAR Editor for SPEED.com and has been covering motorsports for 30 years. He is a six-time winner of the National Motorsports Press Association Writer of the Year Award.