Cubs' Anthony Rizzo calls for 'a lot more' drug testing in MLB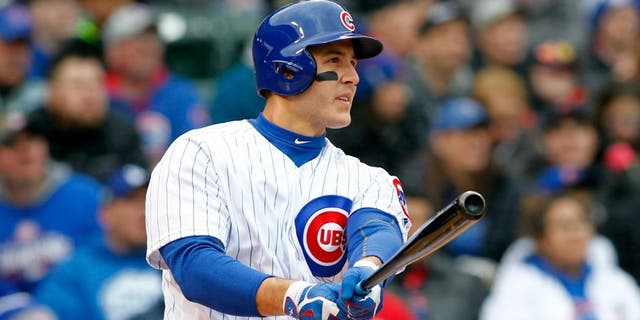 NEWYou can now listen to Fox News articles!
The news that Pirates center fielder Starling Marte had tested positive for a PED and would serve an 80-game suspension resulted in many reactions in and around baseball Tuesday. And the Cubs Anthony Rizzo was among those taking a strong stand.
Rizzo, who has faced Marte plenty in recent seasons in NL Central play, is among the players who would love to clean up the game even if it means increased drug testing.
"Me, personally, I haven't been tested since the season started," Rizzo told reporters, via CSN Chicago. "It's been a solid two months now. It's a random drug test and I'll probably be drug-tested a week from now, because I'm saying this. But for me, it's 15 minutes. We should be getting drug tested a lot more."
Although Martes ban comes without pay, he signed a six-year, $31 million contract (that could be worth $53 million if two team options are exercised) three years ago so hell still reap plenty of benefits from that deal. And thats a detail not lost on Rizzo:
"Is it a big risk if you're suspended 80 games and you got a guaranteed contract?" Rizzo told CSN Chicago. "Do you take that risk to get the reward? That's the question you ask. For some guys, it is a big risk, for others, you get away with it, you get the big deal. But it's part of the game. And my opinion is we need to drug test a lot more."
Count Rizzo among the players eager to close the loopholes that might exist in the drug-testing program. But it will be up to the players union and the owners to collectively bargain an even tougher drug-testing policy.
Andy Marlin | USA TODAY Sports