Cris 'Cyborg' debuts at UFC 198 against Leslie Smith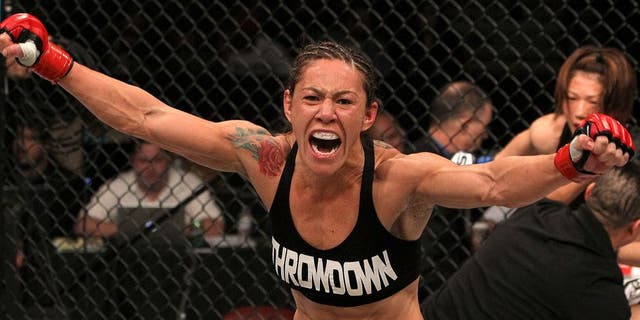 Cris "Cyborg" Justino will make her long-awaited Octagon debut when she fights Leslie Smith at UFC 198 in a catch-weight bout at 140 pounds.
UFC officials confirmed the matchup on Monday.
"Cyborg" has long been considered one of the top pound-for-pound fighters in women's MMA but she has been unable to fight in the UFC previously due to her weight class at 145 pounds. "Cyborg" has gone undefeated for over 10 years while also winning titles in Strikeforce and Invicta FC.
"Cyborg" was embroiled in a war of words with former champ Ronda Rousey for several years, but the bout never came together due to the Brazilian being unable to cut down to 135 pounds.
Still, "Cyborg" campaigned for a shot at UFC 198 because the show takes place in her home country of Brazil at the 40,000 seat soccer stadium in Curitiba.
Now the fearsome featherweight will get her wish as she drops down to 140 pounds and takes on a UFC veteran in her Octagon debut.
Smith accepted the fight with "Cyborg" after a win over Rin Nakai at UFC Fight Night: Hunt vs. Mir in Australia just over a week ago.
The veteran bantamweight has gone 2-2 during her campaign with the UFC but now she'll face the largest test of her entire career when she faces "Cyborg" on May 14.
"Cyborg" vs. Smith joins a growing lineup headed to Brazil, including the heavyweight main even pitting Fabricio Werdum against Stipe Miocic.