Cowboys VP Jones not worried about running back injuries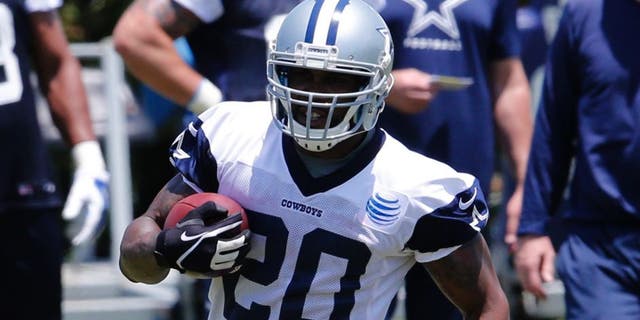 NEWYou can now listen to Fox News articles!
The Cowboys front office left Oxnard with their platoon of running backs injured to attend a league meeting regarding the relocation of a franchise to Los Angeles. Despite three of the team's five running backs being injured days before the Cowboys' preseason debut in San Diego, Executive Vice President Stephen Jones is not worried about the injuries.
"I think all of our injuries, right now, are day-to-day type of injuries," Jones said. "And we're being very conservative because obviously these backs, whether it's Joe Randle or it's [Lance] Dunbar or it's [Darren] McFadden, they're guys we're counting on. So, we're not going to rush them out there."
McFadden aggravated his hamstring a week prior to camp and started out on the PUP list. Last week, Dunbar sprained his right ankle and has been out since. On Monday, Randle strained an oblique and had to miss the rest of practice.
On the first day of camp, Jones referred to a "pocket list" of running backs the Cowboys have. However, he is hardly about to refer to it.
"I still think we're a ways off," said Jones. "If the right situation presented itself, then we'd certainly take a look at somebody. But right now, the list that we have out there would be more of an emergency list and not necessarily one that we look at and say, 'Wow. This is the guy we can get who can make our team.'"
Jones said the list did not relate to high profile free agents such as Ray Rice, Steven Jackson, and Chris Johnson, who has been courted by the Arizona Cardinals as of this morning.
Randle did return to practice this morning, but his status still remains ambiguous for Thursday night's preseason game in San Diego.
MORE FROM FOX SPORTS SOUTHWEST:
- PHOTOS: Cowboys Cheerleaders Auditions
- Preseason predictions for 2015 MLB season
- Ranking NFL quarterback salaries
- Oldest player on every NBA team
- College football's highest paid coaches in 2014