'Cowboy' Cerrone moves up to welterweight, faces Tim Means at UFC in Pittsburgh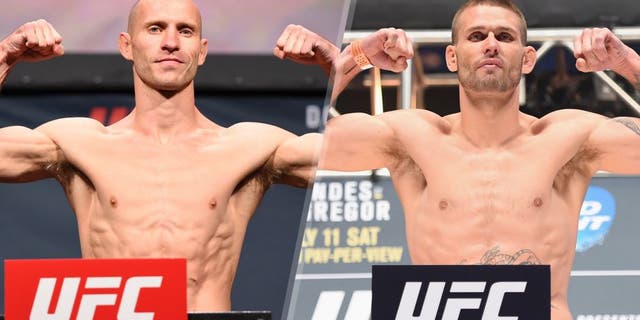 NEWYou can now listen to Fox News articles!
Donald "Cowboy" Cerrone will venture up to welterweight for his next fight as he faces knockout-artist Tim Means in the main event of UFC Fight Night in Pittsburgh on Feb. 21.
The fight was announced and confirmed during the UFC 195 weigh-in show on Friday.
Cerrone most recently fought at FOX UFC Fight Night in Orlando just two weeks ago, but came up short in his bid to win the lightweight title after suffering a TKO defeat in just 66-seconds to champion Rafael dos Anjos.
Never one to sit down for very long, Cerrone quickly dusted himself off and called the UFC asking for another fight, and now he's got one.
Cerrone is one of the biggest fighters cutting down to 155-pounds, so fighting up a weight class shouldn't be a hindrance for him. And now, in Means, he's certainly got an opponent willing to stand and trade with him when they met in February.
Means has gone 5-1 over his past six fights, including a vicious second-round knockout over John Howard in his last bout at UFC Fight Night in Las Vegas in December.
Both fighters live and train in New Mexico at camps literally minutes away from each other, so Cerrone and Means will have some hometown pride on the line as well when they meet in February.
The two heavy hitters will square off in a five-round main event as the UFC returns to Pittsburgh for the first time in four years with the card landing at the Consol Energy Center.