Corbin learning value of patience in Tommy John return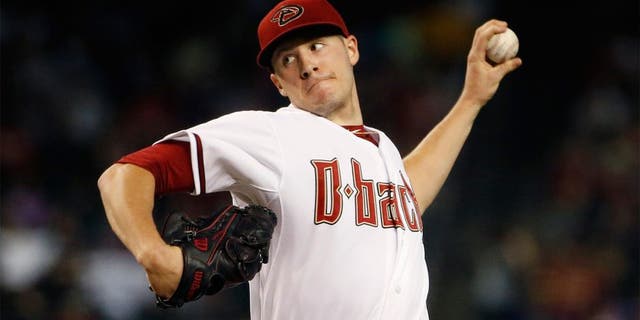 PHOENIX -- Patience.
It's what Patrick Corbin had drummed into him since undergoing Tommy John surgery last year.
He heard it from Arizona Diamondbacks teammate Daniel Hudson, who knows all too well what the road back from the procedure looks like. And he heard it from manager Chip Hale, who has dealt with three pitchers recovering from Tommy John surgery at the same time in his first season as D-backs manager.
Corbin, who makes his fifth start Wednesday against the Seattle Mariners, is working his way back to a normal routine after three pitch-controlled starts. However, it's still too early to expect a return to the pitcher who won 14 games in 2013.
"He's not going to be the finished product until 2016," said Hale. "We just have to be patient and the good we get, we will be really happy about it and if he struggles we just deal with it when it comes."
If anyone understands the meaning of patience with the Diamondbacks, it's Hale. He's had two pitchers return to the team this season after undergoing Tommy John surgery, with a third who was working his way back before being traded. David Hernandez came back in May, followed by Corbin in July. Bronson Arroyo started the season with the club recovering from Tommy John surgery but was sent to the Atlanta Braves last month.
Corbin's comeback started July 4 when he threw five innings, struck out three and gave up two runs in a victory over the Colorado Rockies. He got a week of rest between his next two starts, both losses in five-inning outings.
"It was fine. That was probably the slowest thing to come and it's pretty much back to normal,'' Corbin said. "Everything has felt good since my recovery."
But patience remains the byword.
Corbin sought out Hudson for advice during his recovery. Hudson twice underwent Tommy John surgery.
"Recovery from Tommy John is not the end of the world, but it is a long process," Hudson said. "And in the end if you put in the right amount of work and don't rush the process, then it's not that big of a deal in the long run."
Corbin knows what he is up against, but he is encouraged after his first few starts.
"I'm three games in and I feel like every game has gotten a little bit better with better location in each of my pitches," Corbin said. "Physically I feel great."