Conor McGregor: 'Saturday night, I become immortal'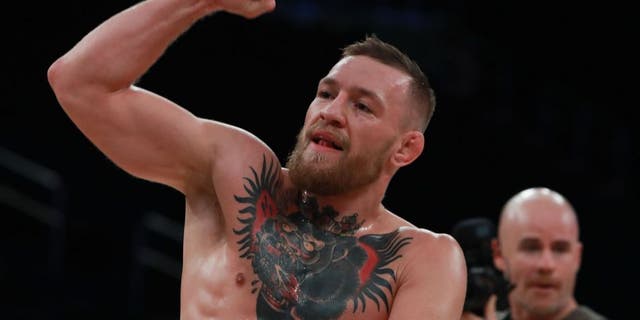 NEW YORK -- It was impossible for Conor McGregor to stand on the historic Madison Square Garden court without taking at least one shot with a basketball.
Like everything he touches these days, McGregor just can't miss and he sunk the shot on his first try as the raucous crowd cheered in approval. After making the basket, McGregor pointed his finger in the air and with a giant grin plastered on his face he said "I can do it all."
At this point, it's hard to argue with him.
While the basket was nice, the real shot for McGregor comes this Saturday night at UFC 205 when he faces lightweight champion Eddie Alvarez in the main event of the promotion's first ever event in New York City.
With a win, McGregor would become a two-division champion simultaneously while also holding the featherweight title. It's a feat that's never been accomplished before and that's why McGregor wants to be the first.
"Saturday night, I become immortal," McGregor said to the crowd. "I'm immortalized in this, I get the second belt, raise it up, never been done before. It means absolutely everything to me.
"This is my life's work, so I'm ready, I'm going to be prepared. I'm ready to put a show on for the fans."
Ahead of his last fight with Nate Diaz in August, McGregor went through a similar open workout for the fans, but on that occasion he was fueled by rage and desire for revenge after falling to the Stockton, Calif. native in March.
This time around, McGregor was all smiles as he met with fans, took photos and signed autographs while soaking in the historic moment as the UFC debuts in New York for the first time since the sport was legalized in the state earlier this year.
While McGregor was certainly in a more jovial mood this time around compared to his last fight, there's no doubt he will be all business come Saturday night.
McGregor has promised to put on a showcase performance in what he has already predicted will be the biggest moment in his career and he's excited to show off some new moves when he steps in the cage with Alvarez.
"I feel like I can do it in many ways, I can paint many pictures in my mind, in many different styles," McGregor said. "All you've got to do is look at my previous fights. Every fight is different, every shot, every approach is different. That's why they can't figure me out. Be here for a treat."
Since the first time he was asked for a prediction for his fight with Alvarez, McGregor has never blinked or changed his mind on the outcome and that was no different on Wednesday inside Madison Square Garden.
With one more chance to say how he expects to win the lightweight title, McGregor only needed three words to explain how Alvarez will go down.
"One round," McGregor shouted. "KO."