Conor McGregor rips rivals for saying they'll fight him, then bailing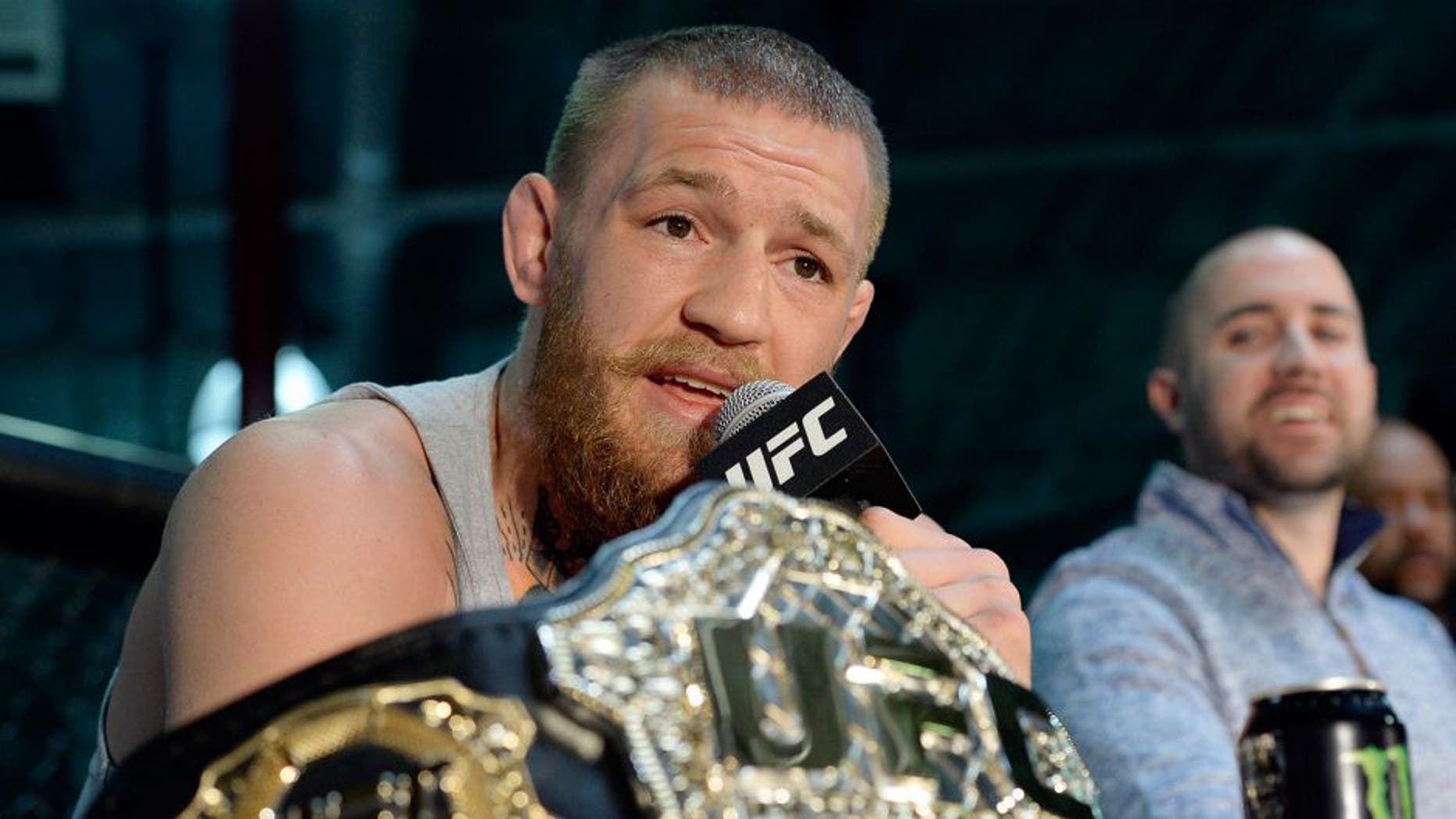 Through his first eight fights scheduled with the UFC, Conor McGregor has endured four different opponent changes due to injury. So it's understandable that McGregor gets so frustrated when another fighter pulls out of a contest and he's left scrambling at the last minute.
Most recently, McGregor missed out on his shot to become the first two-weight world champion simultaneously when lightweight champion Rafael dos Anjos was forced to pull out of their fight at UFC 196.
Dos Anjos suffered a broken foot in training, but McGregor isn't buying it.
Just like he didn't believe former featherweight champion Jose Aldo really was unable to face him last July at UFC 189 due to a rib injury. It's just more of the same, according to McGregor, who claims opponents line up to accept the challenge until they realize what they're getting into.
"I'm going to create my own division. That's it. Who cares about weight? They sign and they pull. It happens to me time and time and time again. I've been dealing with it my whole career.
"They all have sore v*****s lately, it's crazy. Dos Anjos broke his foot and his v***** in the same damn day. Same with (Frankie) Edgar. I couldn't believe the odds on that to happen. If there's belts on the line, I'll rack the belts up, but I'm racking checks up. Checks outweigh the belt."
As much as McGregor was looking forward to his chance to claim a second UFC title, he said he's not sure he'll sign up for a fight with dos Anjos again after what happened this week.
He doesn't actually believe that dos Anjos was as seriously injured as his opponent made it out to be, so he said he's not convinced that the fight would be worth committing the time and effort to again.
"It's hard to commit to dos Anjos again," McGregor said. "The same with Jose, he pulled. It took him two go's to pull up the courage. Hopefully maybe it could take dos Anjos two go's to pull up the courage. But when you pull out with an injury like that, a bruise on the foot, there's not much I can do to bring you back into the mix. It does change things a little bit."
McGregor wouldn't hold it against Aldo for not accepting a second fight with him so soon after he was knocked out in 13 seconds at UFC 194.
If anything, McGregor believes Aldo should take the next year off to truly allow his head to heal after such a vicious knockout. The same could be said for Chad Mendes, who McGregor feels returned to action much too soon after their fight last July.
The result was Mendes getting knocked out in the first round by Frankie Edgar.
"When a man is KO'd unconscious, when a man fights me, they need to take 10 months to a year off. You can't bounce back like that. It's no joke," McGregor said. "You can't take head trauma and bounce back into the gym and spar and these people think you can do that. (Chad) Mendes did that and now his chin will never recover after the fight. He jumped in too early. You need to take proper time. So I understand that."
While Mendes was quick to fight again after losing to McGregor, he doesn't suggest the same course of action for Aldo. Then again, McGregor heard Aldo talking about a rematch ever since their fight ended at UFC 194 but when the call came to offer him the shot this week, he was nowhere to be found.
"I bounced Jose's head off the canvas like a basketball. He needs to take a year to a year and a half off and that's just for his health," McGregor explained. "Then the fight is done and he's putting out all these statements, 'I'll fight Conor anytime, anywhere'. His coach is saying 'we're in camp just in case dos Anjos pulls out'. It's a wrong move, but OK. Then dos Anjos pulls out and then he's gone.
"Personally, he shouldn't have even put his name in the mix in the first place. That's what I feel."