CONCACAF Gold Cup: Mininal US Victory over Guadalupe Raises More Questions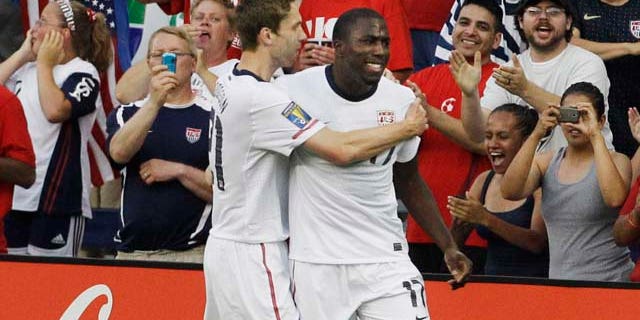 KANSAS CITY, Kan. – Something is not right with the U.S. National Team.
Call it what you want.
The Americans are out of kilter and out of rhythm. They just can't get their act together.
Sure, they qualified for the CONCACAF Gold Cup quarterfinals with a 1-0 win over Guadeloupe on Jozy Altidore's ninth-minute goal on Tuesday night.
But that game should have been a breeze considering the way the U.S. dominated. The Americans outshot their foes, 21-5, and some of their point-blank finishing attempts bordered on comical.
U.S. goalkeeper Tim Howard's assessment was telling.
It was an "OK performance, a little bit lifeless," he said. "It's kind of the way it's been so far. We're glad to get the win and at least move on."
Yes, that was the bottom line – moving on – surviving to play yet another day. The Americans dominated their Caribbean foes and had several opportunities to add to their lead.
Just ask Clint Dempsey, who could not cash in one of his five great scoring opportunities.
"A loss wasn't in the cards tonight," Howard said. "We feel we are a powerful team in the region. You can't lose two in a row, not two games that you are expected to win.
"That wasn't an option," Dempsey added. "Although the score line was closer than we would have liked, I think we controlled the game for the most part. It's not always pretty."
But what is exactly ailing the U.S. is a mystery. Even Howard, one of the team's most forthcoming and eloquent speakers, was dumbfounded.
"I don't know," he said. "I think the Panama game knocked some stuffing out of us. It was difficult. I don't know. I don't know. We need to pull together, get to [Washington, D.C.] and get some training. I think it will be the first time we will be able to get some training together.
"These are weird games," he added. "We've played against some of the best teams of the world and it looks a bit better. These are games where teams bunker in and they're hard to break down. Once we got the goal, they really still didn't come out."
Given the hectic, compressed schedule of the tournament, every team has bounced from game to game and from city to city with a limited amount of training between matches.
The Americans started with a 2-0 win over Canada in Detroit on June 7. Four days later they took on Panama in Tampa and, three days after that, was the Guadeloupe encounter here.
Regardless how the U.S. performed, a U.S.-Mexico final at the Rose Bowl on June 25 is still on target.
The U.S. took second place to Panama in Group C. Had the Americans qualified for the knockout rounds with a third-place finish, they would have played El Tri in East Rutherford, N.J. on Saturday, a premature confrontation of CONCACAF's two superpowers.
The imposing Mexicans have lived up to their billing and then some, rolling over three opponents while outscoring them, 14-1.
Telling statistic: Mexico tallied four goals in the first half in its 4-1 triumph over Costa Rica last week, equaling the Americans' total goal output for the entire tournament.
Perhaps playing Jamaica in the quarterfinals in Washington, D.C. on Sunday, will be the tonic for the U.S. The Reggae Boyz cruised through Group B with a 3-0-0 record, playing attacking soccer.
They are not expected to bunker in.
"They seem to be in a good rhythm," Howard said of the Jamaicans. "I actually think – careful what you wish for – that's the kind of game we need now. We need a game where the pace is high, the tempo's high, teams aren't staying in, they're coming out. That's what we probably need."
Of course, everything is relative. It could be worse, much worse.
The Americans could have suffered the fate of Canada, which is on the outside looking in after it allowed Panama to score in stoppage time to pull off a dramatic 1-1 draw.
The Canadians, who needed a win to advance, were eliminated and they got out of town before sunrise Monday morning.
They'll watch the rest of the tournament on TV, wondering what could have been, what should have been, which might have been.
The job of Canada coach Stephen Hart could be in jeopardy as well as his team fell considerably short of expectations.
Think of the outcry if the U.S. had suffered a similar fate.
Instead, the Americans have the opportunity to play another day and get it right, get their act together, and show the world why they are considered among the class of CONCACAF.
Michael Lewis, who has covered international soccer for three decades, is a frequent contributor to Fox News Latino. He can be reached at SoccerWriter516@aol.com.
Follow us on twitter.com/foxnewslatino
Like us at facebook.com/foxnewslatino