Clint Bowyer takes aim at Victory Lane in Daytona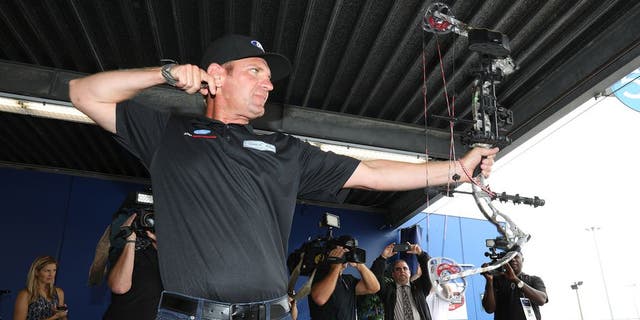 NEWYou can now listen to Fox News articles!
Take cover, folks. Monster Energy NASCAR Cup Series driver Clint Bowyer has been making the rounds with a bow-and-arrow.
Actually, Bowyer is an avid outdoorsman who can be trusted with the weapon -- as he ably demonstrated during an archery exhibition he put on Tuesday at Daytona International Speedway.
Bowyer was joined in the archery exhibition by some media members and the staff from a nearby Bass Pro Shops store.
And when he was done with all that, Bowyer related how he can't wait to get back to Daytona for the Coke Zero 400 on July 1. In his first season driving the No. 14 Ford for Stewart-Haas Racing, Bowyer is still seeking his first win since October of 2012 at Charlotte.
He has three more chances to get one before the Daytona race -- at Pocono this weekend (1:30 p.m. ET on FS1), followed by Michigan and Sonoma. But regardless of what happens between now and July 1, Bowyer made it clear that getting to Victory Lane at Daytona could be, well, more than special.
"To win at Daytona is ultra-special," Bowyer said. "The sense of accomplishment at restrictor-plate tracks is so genuine because so many things have to go right. It's not only you, but your spotter, your teammates, your manufacturer teammates."