Cleverley late goal lifts Everton past resilient Newcastle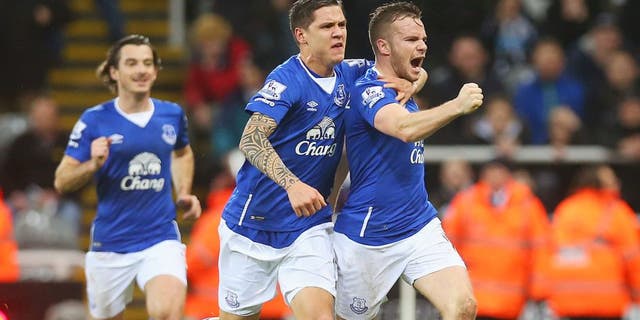 NEWYou can now listen to Fox News articles!
Newcastle United looked to have held out. It appeared it would extend its unbeaten run to four games and remains outside the relegation zone. It could even take heart from how well it had defended. And then, in the final seconds of injury time, a corner was half cleared and dropped for Tom Cleverley on the edge of the box. There was no great power on his header, but with Rob Elliott out of position, the ball drifted into the corner and Everton had a win it had probably deserved but that had looked like eluding it.
So Newcastle slipped back into the bottom three, while Everton clambered up to ninth, a place behind Liverpool. It probably still feels that the quality of its football deserves better and that, with so many of the big guns misfiring, it should be making a better tilt at the upper reaches on the table, but at least it managed to convert control into a win here after it had appeared it would be yet another frustrating draw.
The game had begun with a chorus of "Pavel is a Geordie" from the home fans, expressing their support for their hugely popular former goalkeeper, the one-time Czech Republic international Pavel Srnicek, who suffered a heart-attack during the week. The gesture was heartfelt and touching, but it was also a reminder of better days, when Newcastle under Kevin Keegan sprang from the second flight to challenge for the Premier Division trophy. It's 20 years now since Newcastle were 12 points clear at the top of the table at Christmas, but it may as well be an eternity.
This was as bleak as Boxing Day fixtures come. It had rained for a day and a half and, four days after the shortest day of the year, it was hard to be certain whether dawn had ever broken. It was damp, dark and depressing – in the sky and in the stands. Despite the recent upturn in form, a deep sense of disillusionment continues to stalk St James'. Mike Ashley's ownership, his policy of buying cheap and selling slightly less cheap, his disregard for any of football' more romantic notions, means it will take far more than three games unbeaten to re-establish the bonds between the crowd and the team.
Thanks to Swansea City's victory over West Bromwich Albion earlier in the day Newcastle began the game in the relegation zone and, for 20 minutes, it seemed certain it would stay here. Up until the box, Everton was mesmerisingly good, its passing and movement excellent. But that has been a familiar story this season. Everton seems always to struggle to get the balance between attack and defence right: it can have long sells of sterile domination or it can look dangerous while also being vulnerable, but it never seems like dominating and scoring.
Too often it seemed to want to play a pass too many, too often passes scooted unconverted across the box. Rob Elliot, Newcastle's goalkeeper, made only two saves in a spell in which Everton enjoyed 78% possession, both with his feet – the first from Kevin Mirallas at the back post and the second from Romelu Lukaku after he had been set clear by Aaron Lennon.