Chris Archer powers Rays past Royals in blow out win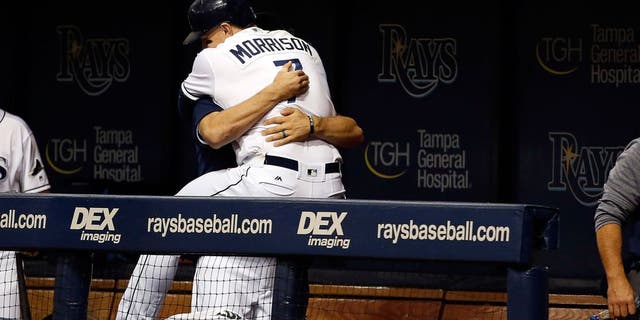 ST. PETERSBURG, Fla. (AP) -- Chris Archer pitched eight shutout innings Wednesday night and Logan Morrison, Rickie Weeks Jr., and Colby Rasmus homered for the Tampa Bay Rays in a 12-1 victory over the Kansas City Royals.
Archer (3-1) won for the first time in five starts since April 14 to help the Rays break a three-game losing streak. He scattered five singles and walked none.
Morrison's ninth homer of the season, and his fourth in seven games, came off Kansas City starter Jason Hammel with a man on in the third inning. Weeks followed with his second home run, putting the Rays up 4-0.
Rasmus hit a grand slam off reliever Peter Moylan in the eighth, the sixth slam of his career.
Everyone in the Tampa Bay lineup had at least one hit for the second straight day. Corey Dickerson had a triple and a single and scored three runs.
Hammel (1-4) gave up six earned runs and 13 hits in seven innings, dropping to 0-6 in his last seven road starts.
The Rays scored their first run on a sacrifice fly double play. With Dickerson on third base, Evan Longoria on first and one out in the first inning, Morrison hit a short fly ball that was caught by Royals shortstop Alcides Escobar. Longoria was caught too far off base and doubled up, but not until after Dickerson had tagged up and scored.
Salvador Perez had two of the five hits off Archer, who hit the Royals catcher with a pitch in the seventh inning. Perez reacted angrily, and words were exchanged before Perez was lifted for a pinch-runner with the Royals down 7-0.
Archer threw 101 pitches, marking his 17th straight start in which he threw at least 100 pitches. It was the 20th double-digit strikeout game of his career.
TRAINER'S ROOM
Royals: RHP Ian Kennedy (hamstring) has resumed throwing off a mound. … RHP Seth Maness, who underwent surgery on Aug. 18 to repair a torn UCL in his throwing elbow, had his contract purchased from Triple-A Omaha.
Rays: RF Steven Souza Jr. (sore thumb) was out of the lineup for the second consecutive game. … SS Matt Duffy (Achilles' tendon surgery) had no soreness one day after his first rehab game with Class-A Charlotte. He had Wednesday off.
UP NEXT
Thursday's series finale features two of the hottest pitchers in the AL. Royals LHP Jason Vargas is 4-1 with a league-leading 1.19 ERA. Rays RHP Jake Odorizzi (2-1, 2.88) has given up only eight hits in his last four starts, one of which he left after one inning with a strained hamstring.