Chase Elliott ready to face challenges of rookie season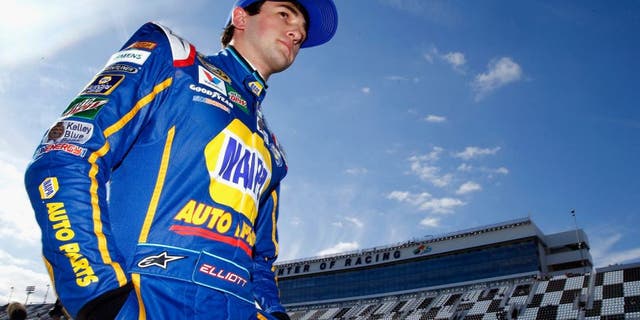 Two years ago, Kyle Larson was a Sprint Cup rookie facing all the changes and uncertainty that come with being a newcomer to NASCAR's top series.
So what advice would Larson give now to rookie Chase Elliott, who at 20 years old is the youngest Daytona 500 pole winner in the race's 58-year history?
Unlike Larson, who entered the Sprint Cup Series with comparatively minimal fanfare, Elliott is under a huge microscope as the son of a NASCAR Hall of Famer -- 1988 Sprint Cup champion Bill Elliott -- and the successor to four-time champion Jeff Gordon in Hendrick Motorsports' iconic No. 24 Chevy.
Regardless of how different their circumstances may be, Larson does have a tip for Elliott.
"He's probably got a lot of expectations and, really, I didn't have any expectations the first half of my rookie year," Larson said during Tuesday's NASCAR Media Day at Daytona International Speedway. "But I guess my advice for him would be just to try his best and block everything else out, and I think Chase is pretty good about that."
Apparently, Elliott is so good at blocking things out that when he's been inside his car, he hasn't spent even a moment thinking about the No. 24, its legacy, or the pressure that comes with carrying such a successful and historic number that Gordon made so special to so many people.
"As I've said, it's an honor to have the opportunity to be No. 24 and I think it's great," said Elliott, who competed with the No. 9, one of his dad's old numbers, the past two years in the NASCAR XFINITY Series. "I've had a lot of fun with it so far, and everybody's been very supportive, so I'm very appreciative there, but once you get in it you can't see what number's on the outside. You're just trying to go as fast as you can at that point."
While Elliott would love to go out and win the Daytona 500 in his first start in the sport's biggest race, the second-generation driver is quick to point out his dearth of seat time compared to most of the drivers he'll be racing against. Experience is especially important at Daytona, a 2.5-mile restrictor-plate track where knowing how to work the draft is as key to running out front as having speed under the hood.
"I know that we have one of the best cars down here, and definitely the entire Hendrick Motorsports team has been fast," Elliott said at Daytona. "The Hendrick engine shop's done a great job. I know we have a car capable of winning, and I certainly think I've got a lot to learn from a drafting standpoint and really a lot of aspects just kind of getting used to things. I know our car's capable of winning; I've just got to figure out what I need to do behind the wheel."
Elliott, who made five Sprint Cup starts last season in a fifth Hendrick car to prepare for 2016, already seems to have the respect of several of his peers.
But those same drivers -- just like Elliott himself -- make no bones about the steep learning curve faced by virtually all rookies to NASCAR's top series.
"It's a lot different and there's a lot to learn, but obviously he's with a great group of people that are surrounding him in the right way and feeding him the right information," said Casey Mears, a 13-year veteran of the series. "If anybody has one of the best shots at really being successful, he's in a great position to do that."
Richard Childress Racing's Paul Menard, a veteran of 327 Sprint Cup starts, agrees about the transition to Cup for Elliott.
"It's a whole different animal," Menard said. "Going a step from trucks to XFINITY would be like taking three steps to go to Cup. I think he'll be fine. He's in a good car, with a good organization, good teammates."
Unlike most Sprint Cup drivers, Menard has already had a chance to witness firsthand how Elliott conducts himself in contentious situations. And he was impressed.
"I've raced with him about a dozen times in the XFINITY Series," said Menard, who has run select XFINITY races in addition to the full Cup schedule the past few seasons. "He actually wrecked me at New Hampshire, so I wrecked him back and he was very apologetic afterward. So we've had an issue and we've resolved that issue and he was a man about it."
Despite already having four XFINITY wins, a XFINITY championship and a second-place XFINITY points finish to his credit, Elliott has a keen awareness of the hurdle he faces in Sunday's Daytona 500 -- the biggest spectacle in all of NASCAR.
"I've got a lot to learn before Sunday and it's definitely not going to be an easy task throughout the entire year," he said. "We recognize there's going to be challenges, and certainly this weekend, I've got a lot to learn or at least try to learn before we get to Sunday, to try to get an idea of what's to come."