Cardinals shake up coaching staff, activate Wong, DFA Peralta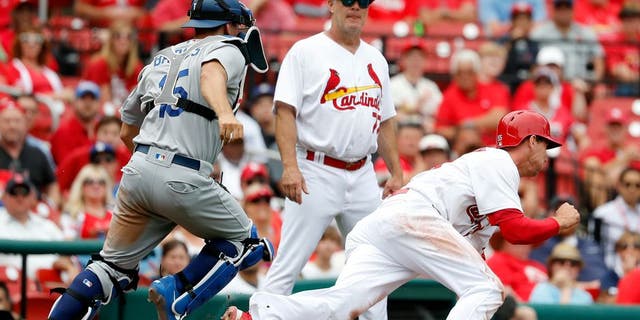 NEWYou can now listen to Fox News articles!
ST. LOUIS -- Mired in a funk that culminated in an 0-7 road trip from which they just returned, the St. Louis Cardinals decided to shake things up Friday -- their roster included.
General manager John Mozeliak announced several changes, including a pair of roster moves. Second baseman Kolten Wong was activated from the 10-day disabled list. To make room for him on the 25-man roster, the team designated infielder Jhonny Peralta for assignment.
The Cardinals also reorganizedmanager Mike Matheny's coaching staff. Third-base coach Chris Maloney, who has been under fire for waving a number ofbaserunners around third who were thrown out at the plate in recent weeks, will be reassigned within the organization. Maloney will be replaced by Mike Schildt, previously the team's quality control coach.
In addition, assistant hitting coach Bill Mueller has takena leave of absence and will be replaced by Mark Budaska, who is being promoted from Triple-A Memphis, where he was the hitting coach for the last nine seasons.
Finally, Ron "Pop" Warner, an assistant field coordinator who has helped instruct minor league players in the organization for many years, will join the big-league staff as an additional coach.
Wong was placed on the disabled list with a left elbow strain May 28. Batting .278 and playing solid defense, Wong was one of the Cardinals' more consistent players at the time of his injury. He returns to the starting lineup Friday night, batting eighth.
Peraltagot off to a slow start to the season after a strong spring and was placed on the DL with an upper respiratory illness April 20. He was activated May 19 but found playing time hard to come by with third baseman Jedd Gyorko and shortstop Aledmys Diaz entrenched at their positions.
Mozeliak told reporters the team was underachieving and he believes changes had to be made to turn the club around. The Cardinals have a 26-32 record and are in fourth place in the NL Central, 4 1/2 games behind Milwaukee.