Cardinals' high-flying offense faces Rams' fierce pass rush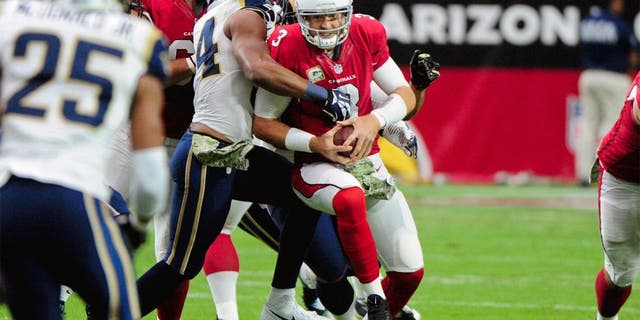 NEWYou can now listen to Fox News articles!
GLENDALE, Ariz. -- That high-flying Arizona offense should get its toughest test yet Sunday.
The St. Louis Rams are having all kinds of problems scoring, but their defense, loaded with five first-round draft picks, is fierce.
"They're the most talented defense in the league, I believe," the Cardinals' Larry Fitzgerald said. "Look at their personnel: all those first-round picks."
Arizona (3-0) rolled past San Francisco 47-7 last week, on the heels of a 48-23 rout of the Bears in Chicago. The Cardinals topped 45 points in consecutive games for the first time in 53 years. Their 17 touchdowns are the tied for third most in NFL history through three games.
"Arguably one of the best teams in the NFC, if not the NFL," Rams coach Jeff Fisher said.
Arizona has a plus-77 in point differential, by far the highest in the league. But the quality of the teams the Cardinals have pounded is suspect. New Orleans and Chicago are 0-3, San Francisco 1-2.
The Rams also are 1-2, thanks to a meager offense that's yet to find traction under new quarterback Nick Foles. Fitzgerald's five touchdowns match the total for the entire St. Louis team.
"We've had some opportunities, but we're just not scoring points and we're not efficient on third down," Fisher said.
Last week, St. Louis lost to Pittsburgh 12-6, and the Steelers lost quarterback Ben Roethlisberger to a knee injury.
It was a grim reminder for the Cardinals. The last time the Rams came to the desert, Carson Palmer went down with a torn ACL.
"What happened last year was last year," Palmer said, "and I am looking forward to this challenge for the offense to go out there and play against one of the best defenses in the league, and seeing how we stack up to those guys."
Here are some things to watch when St. Louis tries to knock off unbeaten Arizona.
PALMER & FITZ: Palmer and Fitzgerald are a pair of 30-somethings playing some of the best football of their long careers.
At 35, Palmer has won his last nine starts and is 16-2 in his last 18 games. His nine touchdown passes tie him with Tom Brady for second most in the NFL, one behind Aaron Rodgers' 10.
Fitzgerald, playing in the slot rather than the wide spot he occupied for so long, has 23 catches for 333 yards and those NFL-best five touchdowns. All are career highs for him through three games.
"I've got the best play caller in the business in coach (Bruce) Arians," Fitzgerald said, "and I've got, I feel, the best quarterback playing at the highest level of anyone in the game. I'm blessed to have some guys around me that can really play."
GURLEY FACTOR: Rams rookie Todd Gurley, coming off knee surgery, made an inauspicious debut last week, gaining 9 yards on six carries.
"We expect him maybe to play a little bit more (on Sunday)," Fisher said. "I'm really proud of his work. He was committed to getting things right. He worked really hard throughout the offseason and the summer, and we collectively made a decision that he was ready to go. In our estimation, he's just going to continue to get better week after week."
SACK MASTERS: The Rams sacked Russell Wilson six times in the opener and had five last week against Pittsburgh.
Something's got to give on Sunday. St. Louis has 13 sacks overall. Palmer has been sacked once, the fewest of anyone in the NFL.
GROUNDED CARDINALS: Arizona has 11 touchdowns in 12 trips to the red zone, and many of its big plays have come on play-action passes. Arians credits the running game for all of that. The Cardinals have topped 100 yards rushing in each of three games, ranking them 11th overall in the league.
Chris Johnson, who played for Fisher at Tennessee, signed late in the preseason. He had 22 carries for 110 yards against the 49ers.
The running game could be bolstered this week if running back Andre Ellington and left guard Mike Iupati can play. Ellington has been out since injuring a knee in the opener. Iupati, considered one of the best run blockers in the game, hasn't played after having surgery to repair a torn meniscus.
INTERCEPTIONS: The Cardinals intercepted Colin Kaepernick four times last week, returning two of them for touchdowns early in the rout. Tyrann Mathieu had two of the picks, and one of the TDs, and was the NFC defensive player of the week.
And in eight career games against St. Louis, cornerback Patrick Peterson has six interceptions and three touchdowns.