Cardinals CB Peterson has no defense for Fitzgerald at the mic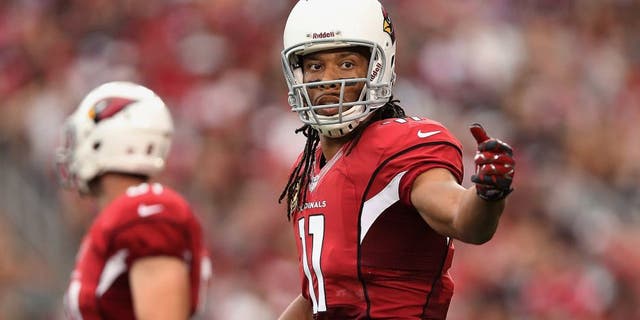 Larry Fitzgerald had all the right answers for teammate Patrick Peterson. Christian Petersen Getty Images
Arizona Cardinals star cornerback Patrick Peterson has been on the receiving end of hundreds of questions from reporters.
Given a chance to be on the other end of the microphone, Peterson got more than he bargained for when he decided to interrupt teammate Larry Fitzgerald's media session on Thursday with a question of his own.
"Finally having the numbers that you have this year, honestly, how did you feel?" Peterson asked Fitzgerald. "I know you're gonna say, it's all about the teammates and all that stuff, but honestly, how do you feel about getting back to your normal self?"
Fitzgerald, who leads the Cardinals with 55 receptions through eight games and is on pace for his first 1,000-yard season since 2011, showed the savvy befitting a 12-year veteran - and the son of a journalist - by not hesitating in his response.
"It started off in training camp when I was abusing you," Fitzgerald told Peterson. "It gave me the confidence to know that (if) I could beat the best cornerback in the game every day like a drum, then I could do it against anybody. I think that's what really set the tempo for me."
When another reported quizzed Fitzgerald on whether there was a certain route he utilized to beat Peterson, the trash talk went up another notch.
"I caught one-handers on him, I dogged him. It was on social media," Fitzgerald said, referring to the accompanying video clip. "If anyone wants to see me catching one-handed on him, it's out there."
Fitzgerald declined to say whether he provided a blueprint to beating Peterson, but not before tweaking his Pro Bowl teammate one last time.
"Not many guys in general have done anything with him this year," Fitzgerald said, "but that's because he hasn't had to check me."