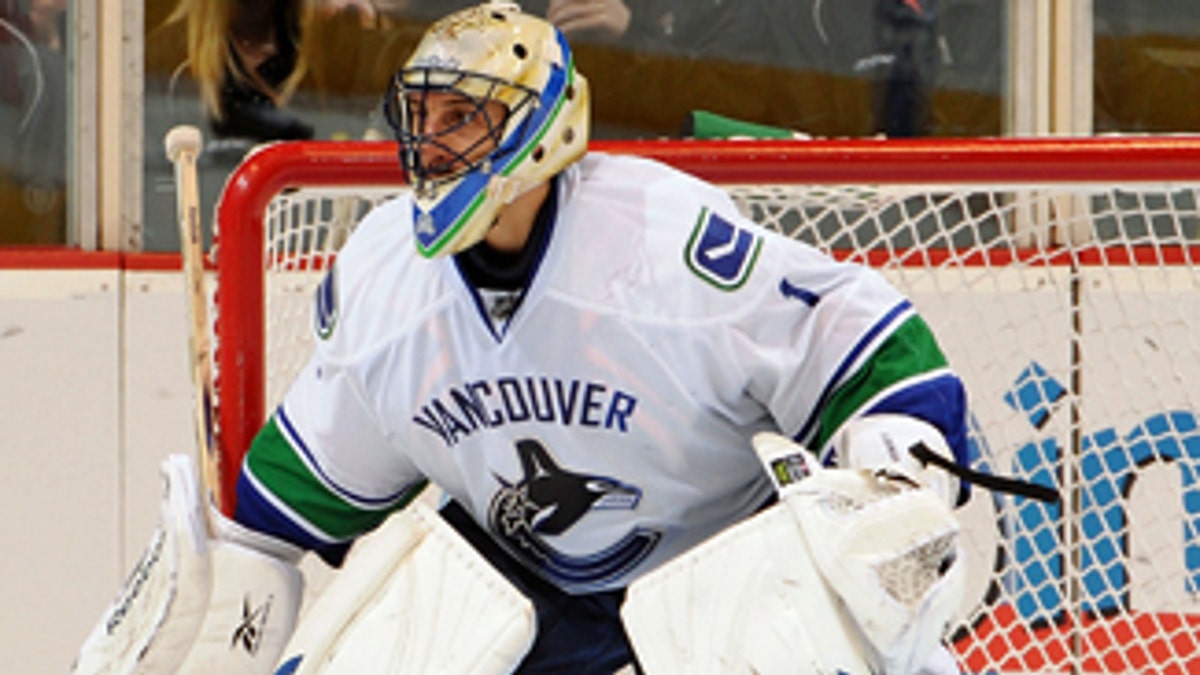 After the best regular season of his career, Roberto Luongo is primed to carry the Vancouver Canucks on a long playoff run.
Luongo won 38 games and posted a career-best 2.11 goals-against average along with a .928 save percentage, giving the Canucks the kind of goaltending they needed to win the Presidents' Trophy for the first time since entering the NHL in 1970. With rookie Cory Schneider providing him with enough rest and new goaltending coach Roland Melanson tweaking his style and positioning, Luongo has never been better.
He enters the playoffs having allowed just six goals while going 5-1-0 in his last six starts. But now things get serious -- Luongo and the Canucks meet the Chicago Blackhawks for the third spring in a row. The Hawks won the first two meetings, including last year's on the way to the Stanley Cup. If Vancouver wants to bring home its first title, Luongo will have to step up his play to another level and beat the team that's sent him home twice in a row.
Five up -- Five players who are going into the playoffs on a roll:
Thomas Vanek -- The only thing that could cool off Vanek last week was Buffalo coach Lindy Ruff's decision to give him the night off on Saturday. He had a hat trick against Tampa Bay on Tuesday and a pair of assists and the OT winner against Philadelphia three nights later in a warmup for their playoff matchup with the Flyers.
Patric Hornqvist -- After a disappointing season, Hornqvist closed strong with back-to-back three-point games for Nashville, giving him 3 goals and 12 points in the Preds' last nine games.
Carey Price -- The Montreal Canadiens will go nowhere without Price -- fortunately he's coming into the playoffs on an upswing. Price allowed just one goal in winning each of his last three starts, stopping 89 of 92 shots.
Dan Ellis -- With Jonas Hiller and Ray Emery out with injuries, Ellis stepped up last week when the Anaheim Ducks needed him most. Ellis allowed 2 goals on 68 shots as the Ducks grabbed fourth place with back-to-back wins against Los Angeles.
Danny Briere -- Briere made an impressive return after missing two games with a lower-body injury, putting up 2 goals and 5 points for Philadelphia on back-to-back nights, giving him 34 goals and 68 points in 77 games on one of the NHL's deepest teams.
Five down -- Five players who are struggling as the postseason arrives:
Dustin Penner -- Los Angeles acquired Penner at the deadline to provide an offensive boost. It hasn't happened. Penner enters the playoffs mired in a 12-game scoreless streak and had just 6 points in 19 games after coming from Edmonton.
Sergei Bobrovsky -- "Bob" was a revelation for the Philadelphia Flyers -- the undrafted Russian rookie came out of nowhere to win 28 games. But after being named the playoff starter last week, he allowed 7 goals on 39 shots in two appearances and was yanked 12 minutes into Saturday's game.
Joel Ward -- Ward isn't exactly coming into Nashville's series against Anaheim on a high note: He went scoreless in the Predators' last seven games and enters the playoffs having gone a month without a goal.
David Desharnais -- Desharnais gave the Montreal Canadiens a midseason offensive boost, but he went cold over the last month. The 25-year-old went pointless in his last nine games and hasn't had a goal in 16.
Erik Christensen -- With Ryan Callahan out, the New York Rangers need Christensen to step up offensively, and he hasn't shown much down the stretch. An assist in Saturday's season finale ended a nine-game pointless streak, and he's gone 11 games without a goal.
Injuries, news and notes -- As the NHL prepares for the 2011 playoffs, it's also saying goodbye to the last player to wear the uniform of the Quebec Nordiques. Adam Foote, who moved with the franchise and won two Stanley Cups in Colorado, announced his retirement last week. The 39-year-old defenseman played his final NHL game Sunday after missing the last three weeks with an ankle injury.
Out -- Tampa Bay defenseman Victor Hedman missed the Lightning's last three games with a lower-body injury. Forward Steve Downie left Saturday's season finale with a lower-body injury. … Detroit forward Henrik Zetterberg sat out the weekend with a lower-body injury, and the Wings say he may not be ready to go when the playoffs start. Defenseman Niklas Kronwall has a shoulder injury … Anaheim goaltender Ray Emery went down with a lower-body injury Wednesday and hasn't played since. … Chicago's Troy Brouwer missed the Hawks' last three games with a shoulder injury. … The New York Rangers lost forward Ryan Callahan with a broken right leg last Monday; he won't play again this season unless the Rangers make a lengthy playoff run. … Nashville's Martin Erat sat out the last two games with a back injury. … Flyers center Blair Betts missed the last week of the season with a lower-body injury.
Returning -- Washington defenseman Mike Green, who has missed most of the last two months with a head injury, hopes to be ready for the Caps' playoff opener Wednesday. … Philadelphia's Chris Pronger has missed a month with a broken hand that required surgery; the Flyers hope he'll be ready to play against Buffalo. … Sabres goaltender Ryan Miller returned Friday after missing four games with an upper-body injury. … Phoenix got centers Lauri Korpikoski and Martin Hanzal back last week; defenseman Ed Jovanovski also returned from facial fractures. … Nashville forward Steve Sullivan, out since February, was able to play Friday. Forward Cal O'Reilly (broken leg) made the trip to St. Louis for the season finale but didn't play. … Chicago forward Patrick Sharp returned Wednesday from a knee injury. … Ranger captain Chris Drury returned Saturday after knee surgery. … San Jose's Scott Nichol returned Saturday after missing 20 games with an upper-body injury.
Still out -- Pittsburgh still isn't saying if or when Sidney Crosby will be able to play during the playoffs. He's been taking part in morning skates but has yet to be cleared for contact. The Penguins will also be without Evgeni Malkin (knee surgery), Dustin Jeffrey (knee) and Nick Johnson (concussion). … Tampa Bay won't have defenseman Randy Jones (ankle) to start the playoffs. … The Ducks were able to dress goaltender Jonas Hiller over the weekend, but he didn't play. He's played only once in the last six weeks as he battles vertigo. … Chicago's Dave Bolland practiced without contact over the weekend as he works to come back from a concussion that cost him the last month of the season. …Los Angeles won't have No. 1 center Anze Kopitar (ankle surgery) until next season. Winger Justin Williams, the Kings' No. 2 scorer, is still out with a dislocated shoulder, though he's been cleared to practice. … Montreal center Jeff Halpern (lower-body injury) hasn't played since March 20. Defensemen Andrei Markov and Josh Gorges are gone for the season with knee surgery. Forward Max Pacioretty (concussion/broken vertebra) has missed the last month. He's skating lightly but won't play. … Buffalo is still without forward Mike Grier due to a knee injury. … Washington expects to be without defenseman Dennis Wideman (leg) for the first round of the playoffs. Another defenseman Tom Poti hasn't played in three months due to a groin problem.
The week ahead -- The playoffs get under way on Wednesday.
Games to watch:
New York Rangers at Washington (April 13) -- The Rangers return to the scene of their last playoff game; they lost 2-1 at the Verizon Center in Game 7 of their first-round series in 2009.
Tampa Bay at Pittsburgh (April 13) -- The Lightning step onto the ice in the postseason for the first time since 2007 as the playoffs come to the Consol Energy Center for the first time.
Chicago at Vancouver (April 13) -- The Blackhawks ended the Canucks' season at Rogers Arena a year ago; this time, the series starts in Vancouver.
Los Angeles at San Jose (April 14) -- The Kings and Sharks square off in the playoffs for the first time when the puck drops at HP Pavilion.
Phoenix at Detroit (April 16) -- The Coyotes and Red Wings drop the puck at 1 p.m. ET to start a hockey lover's dream day -- four playoff games in succession, ending with the Kings and Sharks at 10 p.m. ET.