Canucks look to close out defending champs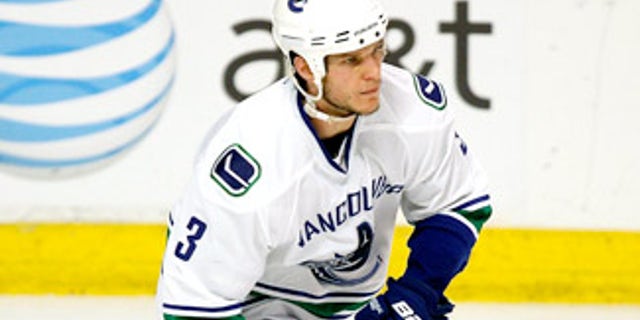 CHICAGO -- The quote written on the dry-erase board inside the Vancouver Canucks' locker room at the United Center on Tuesday morning summed it up for them nicely.
"Today's (quote) was, 'The hardest thing to do to a hockey player is take the stick out of his hands,'" said Tanner Glass, who will help the Canucks try to sweep the defending Stanley Cup champion Chicago Blackhawks out of this Western Conference quarterfinal on Tuesday night. "I think that's very meaningful for today. Those guys have a lot of pride over there and they love the game. To beat them tonight (would make them) go into the off-season, and they never like that."
On the flip side, it would also officially catapult the Canucks over the playoff roadblock that Chicago has presented in each of the previous two postseasons.
The Blackhawks have tormented the Canucks in back-to-back Western semifinals by ending Vancouver's Cup hopes in six games. Now it's the Canucks with a chance to scratch back by ruining Chicago's hopes to repeat its championship of a year ago -- and do it with a humiliating sweep, no less.
It's the perfect storyline for writers except for one thing: the Canucks aren't biting on the opportunity to talk a little trash before they drop the hammer on the Hawks' season.
You'd think they would be more excited about it, but the Canucks are ardently sticking to their drone-like "one-game-at-a-time" mantra they largely credit for putting them in this position. Not even Vancouver defenseman Kevin Bieksa, a man who's gotten into some verbal exchanges with the Hawks through the media in the past, was in the mood to gloat.
Not this time. Not with Chicago missing most of the key combatants that sparked a lot of the ill-feelings in the past. Bieksa says tonight's opportunity to sweep the Hawks isn't a form of revenge or part of a vendetta caused by the rivalry with the Hawks.
"It hasn't been for us and we've said that all along," Bieksa said. "We feel like it's two different teams (than in the past). More importantly, we feel like we're a different team and we've kind of realized where to focus our energies -- and that's on our team. It's working for us."
They started last season's semifinal series saying much of the same stuff, but weren't able to stick to the plan. The Hawks got into the Canucks' heads, caused them to take bad penalties and tore the series open as a result. This time, Vancouver hasn't lost its intense focus and it's paid off in three narrow wins.
Will it work a fourth straight time against the Hawks on Tuesday night?
If it doesn't, one thing's for sure -- it will be more of the same from the Canucks in Game 5.
"We know if we play our game, we've got a good chance to win tonight," Henrik Sedin said. "If it doesn't happen, we'll go back to Vancouver and do the same thing there."
It doesn't exactly make for "must-read" stories, but the Canucks don't care. They only care about two things -- winning and advancing.
"We've been about playing the right way and it's not going to change tonight," Henrik said. "It's a boring mindset, but that's the way it's going to be for us."
About the only thing that classifies as "non-boring" about the Canucks is the side story about forward Raffi Torres playing in Game 4 while Hawks defenseman Brent Seabrook sits out with after-effects of two hits Torres put on him in Game 3 -- one of which resulting in a minor penalty for interference.
Chicago coaches and players feel like Torres should have received a suspension, but the League opted not to give him one on Monday. Now, Vancouver will suit up Torres on Tuesday night and coach Alain Vigneault said he doesn't expect his power forward to play any differently.
"He's a physical, emotional player," Vigneault said. "He's going to play the same way. All players are continuing to be educated on what's accepted and what's not and he's like everybody else. He knows what's accepted and not, but this is still a physical game and I don't expect that part of his game to change."