Busch brothers Kyle and Kurt look to conquer Bristol again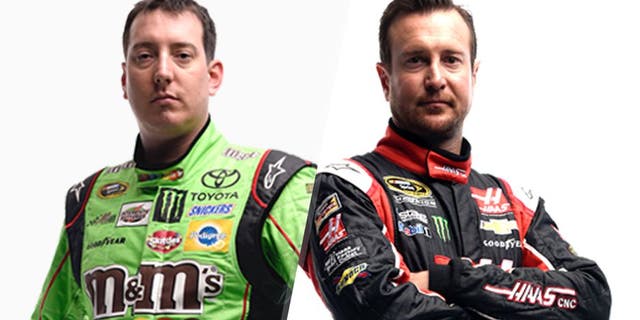 NEWYou can now listen to Fox News articles!
BRISTOL, Tenn. When it comes to piling up victories in NASCARs top series at Bristol Motor Speedway among active drivers, no one tops the Busch brothers.
For now, they cant even top each other.
Kurt Busch and Kyle Busch each have five wins at the .526-mile short track, more than any other active driver in the Monster Energy NASCAR Cup Series.
But while that means they bear close watching in this Sundays Food City 500 (live on FOX at 2 p.m. ET), it doesnt mean either is a lock to get to Victory Lane for what would be the sixth time. Kurts last win at BMS came in the spring of 2006, when he completed a remarkable stretch of five wins over nine race starts.
Its definitely gotten tougher with the amount of options there are with the low lane, the high lane, the way that the tires have changed, Kurt Busch said.
Kyles first win came in 2007 and his last came in the spring of 2011 when he also completed a stretch of five wins over nine starts.
I do remember watching when I was a kid I wasnt here (racing in the series) yet watching Kurt win his first race here at Bristol and then having the epic battle with Jimmy Spencer, said Kyle, who is seven years younger than Kurt. That was a lot of fun to watch and see how Kurt was able to get his first win here.
Even though its been more than a decade since Kurt Busch won at BMS, its not like he hasnt contended. He finished third in the spring race last year and was leading in the Night Race last August when he spun out after getting overaggressive in an area of the track where VHT adhesive had been applied.
I tried to hook the VHT a little too aggressive on the bottom lane on one of the later restarts around Lap 400 and actually spun out while leading, Kurt said. I felt pretty low after that moment. Thats a thing that you have to learn from and adjust to and come back the next time around and apply a strategy that will help us get to Victory Lane.
Both brothers say that the concrete track at Bristol has changed so much over the years with it being repaved once and reconfigured twice since 2007 that what they did in the past hardly matters.
Every time we come here it seems like theres something changing, Kyle Busch said. With the bottom grip strip lets call it, it certainly makes for a unique race track more unique than it was already."
When they first re-concreted this race track and did a new layout to it (in 2007), making it more of a bowl-type to where you can run all over the race track, I was a huge fan of that," Kyle explained. "You could race and race cleanly and not have to knock people out of the way and you could run three-wide through the corners or two-wide most all the way around the race track.
"Thats boring apparently so they changed it again and ground the outside groove and that really through me and my team for a loop. We were never really able to find something that we could work with up there and get it to work the way that we needed it to win races here.
Hes hoping that changes in this Sundays Food City 500. If Fridays lone practice is any indication, he will be a contender. Kyle Busch was second-fastest in his No. 18 Joe Gibbs Racing Toyota with a top lap of 127.090 miles per hour, trailing only the No. 77 Toyota of Erik Jones.
Kurt Busch turned the 12th-fastest lap in his No. 41 Stewart-Haas Racing Ford at 126.170 mph. He said he knows he needs to run a different style of race Sunday than the ones he used to employ to win here earlier in his career.
The races that I won had a nice, consistent pattern, Kurt Busch said. It was to be a bulldog on the bottom lane, move guys out of the way, and let the rough edges drag.
The new Bristol and where we are now its a little bit more finesse and you have to find the lane that works the best to be able to get by the guy thats already in the best lane. You cant necessarily just move him because were all on that ragged edge Youre right on the edge of slipping already, so youre trying to get to the guy and move him and yet if you do one little extra step, youre going to slide up into the fence. Its such a large consequence when that happens, so its just a different way of going about it and I havent quite mastered it like I did before.