Bucs teammates want to know what happened to Jameis Winston's belly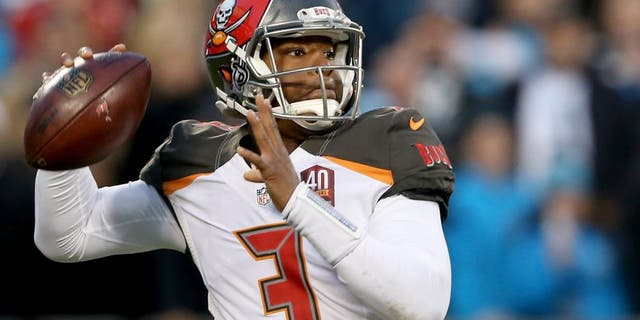 NEWYou can now listen to Fox News articles!
Jameis Winston apparently has been avoiding the crab legs this offseason, as his chiseled physique is the talk of the Tampa Bay Buccaneers' voluntary minicamp.
Winston, who was listed at 231 pounds last season, has impressed his teammates with his toned-up look.
"He lost a lot of weight. He slimmed out," wide receiver Mike Evans told the Tampa Bay Times on Tuesday. "I was joking with him the other day. He took his shirt off, and I said 'Man, what happened to the belly?' He's got a six-pack like me. He's put in a tremendous amount of work and I think it's going to be a great year for him and this whole team."
There were concerns about Winston's conditioning after some unflattering images appeared prior to last year's draft. For example:
But after being drafted first overall in 2015, Winston threw for 4,042 yards and 22 touchdowns (with 15 interceptions) in 16 starts as a rookie last season. He also rushed for 210 yards and six scores. It resulted in a trip to the Pro Bowl.