Bubba Watson passes a major test in China with an overseas victory that feels like a major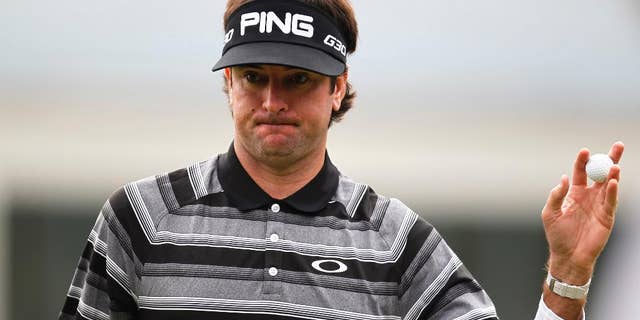 SHANGHAI – A television crew from the European Tour asked players to participate in a quiz about China before the start of the HSBC Champions.
This was never going to end well for Bubba Watson.
The two-time Masters champion went along with the promotion and even guessed right on a couple of questions. But it all went wrong when the host asked Watson to name an animal on the Chinese calendar.
His business manager tried his best to help, standing to the side and weaving his hand back and forth in the motion of a snake. Watson watched this out of the corner of his eye, and then turned back toward the camera with the answer.
"Fish," he said.
Watson managed to laugh at himself.
"I thought it was snake, but then I thought about a snake being poisonous and maybe it was back luck," he said.
Five days later, Watson passed the global test that mattered.
In a finish that was wild even by his standards, he filled his scorecard with an eagle, birdie, par, bogey and double bogey over the last five holes at Sheshan International. He led by two on the 16th tee. He trailed by one when he walked off the 17th green. And right when it looked as if he had thrown it all away, Watson caused a cheer that could be heard a half-mile away by holing a bunker shot for eagle on the 18th hole that put him in a playoff, which he won with a birdie.
For a two-time Masters champion, winning a World Golf Championship was a big deal to him.
"It's a global game," Watson said. "I was watching when I was growing up the greats of the game win outside the U.S. Being able to win outside the U.S., I just wanted to be able to travel and get through the jet lag, get through all the things and still perform at a high level. So for me win out here, this is very big. This is very special for me."
One of his most famous overseas adventures didn't end nearly as well.
Watson still gets panned for his trip to the French Open three years ago when his jokes about that tower (Eiffel) and archway (Arc de Triomphe) backfired and made him look like an ugly American. He missed the cut and complained about too many cameras and not enough security.
But he was determined to show he was more than just a big basher who thrived on American courses.
Since that trip to France, Watson has gone to Sweden and Australia, China and Thailand. He is the 14th player to win a major and a World Golf Championship, and it was meaningful that the WGC title was truly a world event.
He was a crowd favorite in Shanghai after dressing in traditional clothing and hanging a Chinese lantern on the rooftop of the Peninsula Hotel downtown across from the magnificent skyline.
On the course, a gallery that understands golf a little more each year was fascinated by his pink driver and outrageously long tee shots.
"I didn't expect a lot of people pulling for me," Watson said. "I didn't know what to expect, really. But obviously, a lot of people like to hit the ball far. So I guess that helps a little bit, and that people wanted to watch me play golf and cheer for me, and every once in a while see one go straight."
"They never know what they're going to get," he added, "so maybe they get excited about it."
For Watson, these are exciting times.
He and his wife, Angie, are completing paperwork to adopt a second child. "That could happen any day," he said. Watson is about to announce a new charity-business venture. He is No. 3 in the world, making him the highest-ranked American and allowing him to close in on Adam Scott at No. 2.
Watson has won three times in a calendar year for the first time, having gone 64-64 on the weekend to win at Riviera in February and adding a second green jacket at Augusta National in April. One of his goals was to win a major. He also wanted to win overseas.
His next ambition is to get to 10 victories on the PGA Tour, and he's three away.
"The global game makes it harder to win," Watson said. "Ten wins for me personally, and any young player, that's the first goal. ... I don't see anyone getting 40 wins. Rory (McIlroy) is special. He could be the next special guy. But it's about runs, and my run is right now.
"My goal is 10 wins and make every team event," he said. "Those are the biggest goals. And until we reach those goals, I'm going to keep trying. If I get to 10, then I can switch it from there. Or retire."
He was joking about retirement. Besides, he had a plane to catch to Japan for the Taiheiyo Masters this week.