Bubba Wallace improves in second Cup race, takes responsibility for late wreck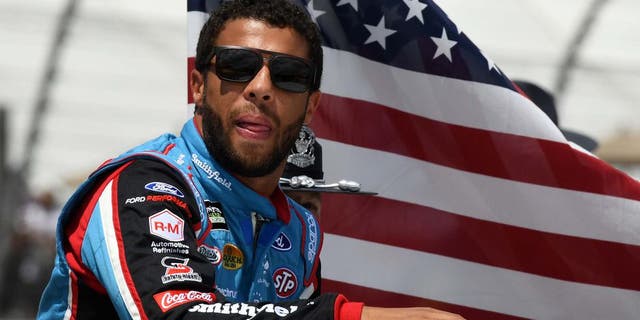 NEWYou can now listen to Fox News articles!
In just his second Monster Energy Series race driving the No. 43 Richard Petty Motorsports Ford, Darrell Wallace Jr. continues to learn and improve.
Following his 26th-place finish in his first career Cup race at Pocono Raceway, Wallace finished 19th in Sunday's FireKeepers Casino 400 at Michigan International Speedway.
After starting 26th, Wallace was proud of his effort to break into the top 20.
"It was a lot better than last week for sure," Wallace said. "Just figuring out how these cars drive. They're a handful."
"It is a learning curve," he added. "It was a solid run all day. I knew we would run a lot better than where we started, it was just a matter of getting around those guys, getting track position and clean air."
Wallace was having a quietly successful day before getting caught up in a wreck that sent Daniel Suarez and Danica Patrick crashing on the backstretch following a restart with 10 laps remaining.
"I think Jimmie (Johnson) got a little tight and it gave me a little clean air to get under him," said Wallace. "Danica got underneath me, then I was like just hold a pretty wheel here. I had my elbows locked and all of a sudden I got hit in the right rear and shot into Daniel."
The young driver didn't shy away from taking full responsibility for the crash.
"That's what caused the whole thing," Wallace said. "It was an accordion effect. From my vantage point, I caused that because I got hit."
Crazy restarts is one of the biggest things Wallace is continuing to familiarize himself with as he fills in for the injured Aric Almirola.
"The restarts were wild at the end," Wallace said. "I thought Trucks and XFINITY were wild, but there are more wild by far."
Despite the solid result, Wallace couldn't help but think of what could have been if it wasn't for the late-race incident.
"We should have ended top-15 but I didnt have my guard up enough," Wallace said. "Top 20 is good. I am pumped up a lot about that. I didnt speed on pit road and I am proud of that. It was all good.
Nigel Kinrade | Nigel Kinrade LAT Images www.latphoto.co.uk