Broncos' new ground game built on the hardscrabble journey of undrafted RB C.J. Anderson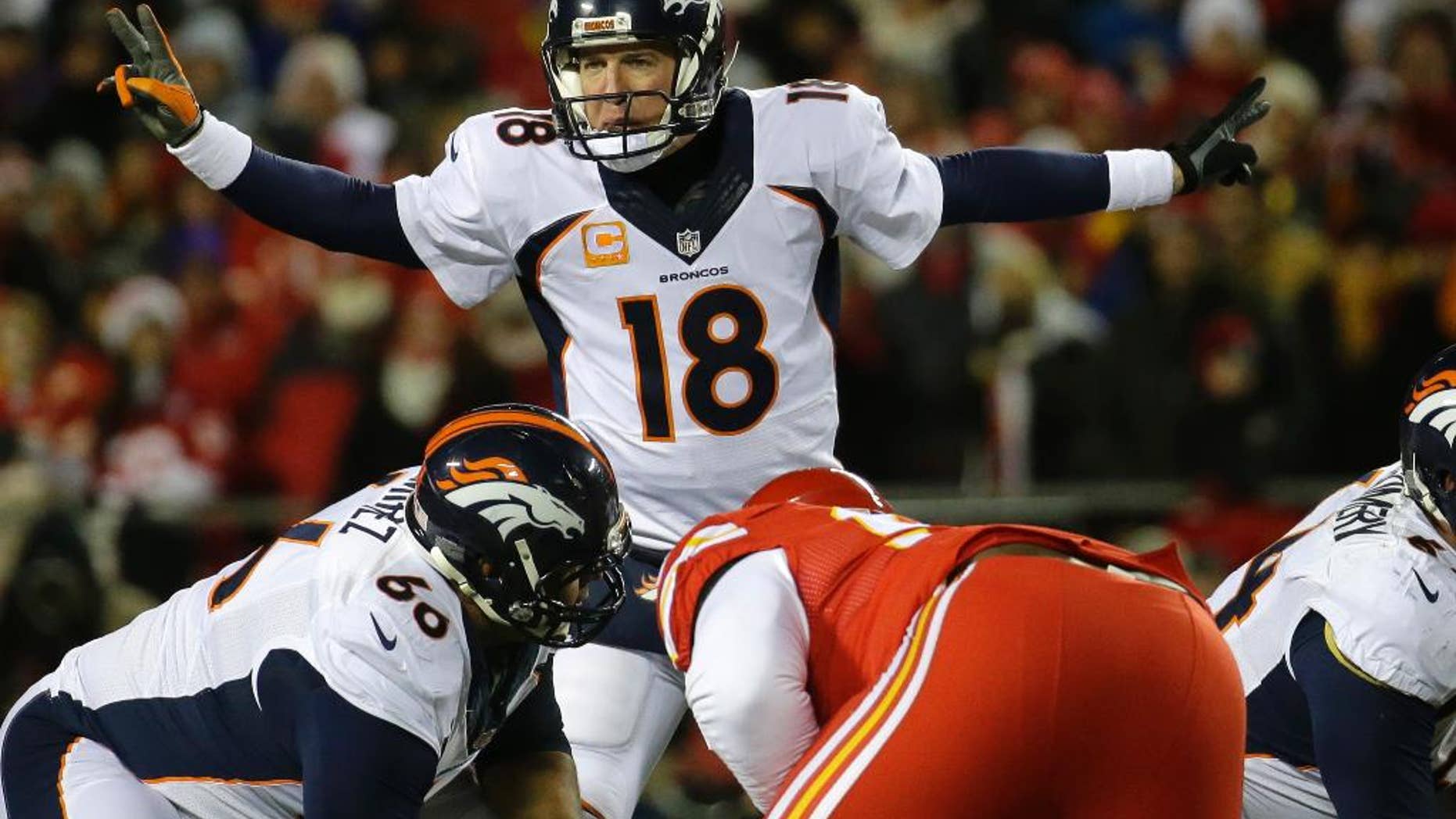 ENGLEWOOD, Colo. – John Elway had Terrell Davis to give Denver a different dimension in the late 1990s. Now, Peyton Manning has C.J. Anderson.
The undrafted second-year back from Cal has gouged opponents for an average of 164.5 yards from scrimmage since leapfrogging injured running backs Ronnie Hillman and Montee Ball a month ago.
And he's provided a toughness and balance that Manning appreciates.
"I like it. We kept the defense on their heels," Manning said after Anderson ran for a career-best 168 yards in Denver's 29-16 pounding of the Chiefs. That bested the 167-yard performance he had a week earlier against Miami.
"He has been special," said Manning.
When Anderson hasn't had his head buried in his playbook lately, he's been immersed in his cellphone. He had 165 texts to go through Monday morning, including this nugget from his mother: "Just keep grinding. Stay humble."
Anderson promised her once more that he'll never let this sudden success go to his head.
"I'm just playing the same ball I've been playing since I was 8," he said. "Just trying to have 18 (Manning) and the coaching staff trust me a lot more and just trying to do a lot more to help my team win."
He did plenty against the Chiefs, gaining 90 yards after contact and helping the Broncos control the clock for nearly 39 minutes, running 79 plays to Kansas City's 38. That, in turn, kept Denver's defense fresh enough to pile up six sacks and another half-dozen QB knockdowns.
Anderson's churning style was still paying dividends a day later.
"Man, I turned on the film and we only got like 21 minutes of watching," cornerback Chris Harris Jr. said. "Usually it's like 40. So, I mean that's a huge difference. And it's something we need every week. Time of possession is huge. We don't want to put all of the onus on Peyton. It's a team game this year, a total team this year. So, we want to everybody to make his job a lot easier."
Last year, Manning set NFL records by throwing for 5,477 yards and 55 touchdowns. But that one-dimensional offense was exposed in the Super Bowl, and the Broncos vowed to become a well-rounded team this season.
Enter Anderson, the 5-foot-8, 224-pound wrecking ball whose smarts help him hit the holes fast and whose low center of gravity keeps him mowing over linebackers and defensive backs once he eludes the linemen.
"It's just running hard and letting people feel my story," Anderson said.
That story is one of growing up in the Country Club Crest neighborhood in Vallejo, California. It's one of dodging danger on the streets. It's a story of being smart but also the wise guy in high school and having to go to Laney College for two years, where he learned to hit the books with the same passion that he hit the holes.
He transferred to Cal, where he would rise from seventh string to second string but make just two starts in two years before being bypassed in the 2013 NFL draft.
He signed with the Broncos, he said, because "for one, I knew I had the football IQ to play with 18. Two, I felt the running back position wasn't solidified."
Anderson gave half of his $12,500 signing bonus to his mom, Neva Craig, who works as an elementary school lunch lady.
He rushed for 69 yards in his first preseason game but a knee injury set him back and he ended up rushing just seven times for 38 yards his rookie season.
This year, he hit the halfway point with just 82 yards rushing and one catch. Over the last month, he scored three times and gained 658 yards from scrimmage while averaging 5.6 yards a carry and 11.3 yards per catch.
Anderson and his two brothers were raised by a single mother who taught her boys to be humble and never forget their roots.
"My mom says it best: We were never fed with a silver spoon," Anderson said. "There were nights where dinner was peanut butter and jelly. I mean, there was so many things that we've been through. Every time I'm on the field when I break a tackle or lay the boom, I'm just letting them know this is what I've been through at home and what I did to get here."
Notes: Although new K Connor Barth was 5-for-5 on FGs, all eight of his kickoffs were returned, for an average of 25 yards. Asked if he'd consider signing a kickoff specialist, John Fox said: "I've done it before. ... You consider everything but you can consider nothing, as well."
___
AP NFL website: www.pro32.ap.org and www.twitter.com/AP_NFL