Brock Lesnar has no clue where his UFC titles are but he knows how much money he made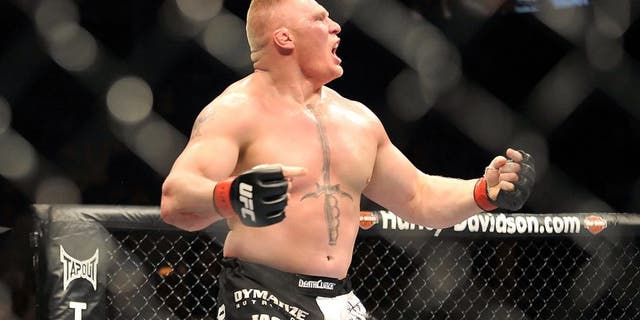 When Brock Lesnar finally retires from athletic competition he will undoubtedly go down as one of the greatest crossover sensations the sports world has ever known.
Lesnar won an NCAA heavyweight wrestling championship at the University of Minnesota before pursuing a highly successful career in the WWE. From there he decided to try out for the NFL and made it deep into a training camp with the Minnesota Vikings.
Lesnar then opted for a mixed martial arts career where he became a defending UFC heavyweight champion before eventually re-signing with the WWE where he remains one of the biggest stars in the professional wrestling world.
But for all his accomplishments and accolades, Lesnar swears he's not concerned about the legacy he'll leave behind one day. In fact, Lesnar couldn't even locate his UFC titles if you asked to see them.
"I'm not much for legacy," Lesnar told "SportsCenter" on Monday. "I guess people have their way of remembering what I did. I'm not about accomplishments. I don't have a trophy room. I don't have any symbolic things. I'm not a sentimental guy. I couldn't even tell you where my UFC titles are or my WWE championships or my NCAA plaque, my heavyweight plaque. I don't even know where that is right now.
"But I do know one thing -- how much money's in my bank account."
Lesnar has already accomplished more than most athletes could ever dream but the fact that he's pulling in a hefty paycheck for his current work schedule seems to be what matters most to him.
During his days with the UFC, Lesnar was the biggest draw in the sport although he's surrendered that title to Conor McGregor and Ronda Rousey, who have recently pulled in massive numbers for recent pay-per-view offerings.
None of that seems to matter much to Lesnar these days as he's focused on his WWE career where he's preparing for WrestleMania 32 this weekend in Dallas, Tex. where he takes on Dean Ambrose in a "No Holds Barred Street Fight".