Brewers take advantage of errors in 7-4 victory over Boston Red Sox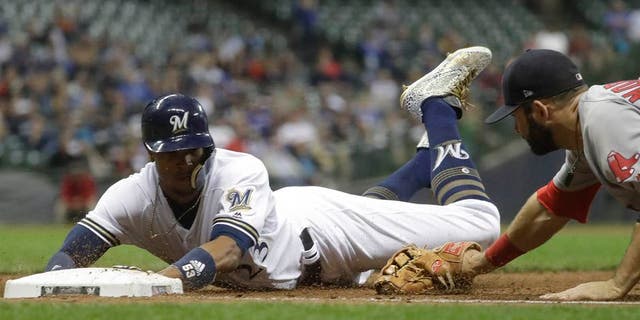 MILWAUKEE -- Keon Broxton and Eric Thames keep hitting for the Milwaukee Brewers, helping to power a productive offense that might need to withstand another injury to Ryan Braun.
On Wednesday night, the Brewers found some relief on the mound, too, to shut down the Boston Red Sox.
Top of the order hitters Broxton and Thames had two hits each and set the tone in a four-run fifth inning, while right-handers Rob Scahill and Jared Hughes provided key innings out of the bullpen to preserve a 7-4 victory over the Red Sox on Wednesday night.
After beating Boston 11-7 in the series opener on Tuesday, the Brewers took another interleague slugfest. The teams combined for 24 hits, 13 for Milwaukee. The Brewers also scored two runs on throwing errors by catcher Christian Vazquez, one each in the fifth and sixth.
"We just did a nice job keeping the pressure on them offensively and scored seven runs without a home run, so it was a good night for us offensively," Brewers manager Craig Counsell said.
Broxton started rallies in the fifth and sixth with hits. Second-place hitter Thames' ground-rule double drove home Broxton in the fifth to break a 2-2 tie.
Thames stole second in the sixth on a play that ended with Broxton scoring from third on one of Vazquez's errors to make it a five-run lead. Broxton and Thames also played key roles in the opener.
"It's beautiful and it's a lot of fun … every guy in that lineup is going to give a tough at-bat, and come up with some good results," Broxton said.
Jackie Bradley Jr. homered for the Red Sox, while Vazquez was one of four Boston hitters with two hits.
Red Sox starter Kyle Kendrick (0-2) was shelled for six runs and 10 hits in 4 1/3 innings. Kendrick's spot in the rotation seems tenuous after his ERA ballooned to 12.96.
"We'll see what happens," Kendrick said when asked about his future. "You guys can ask (management) though. I'm sure they will tell you something."
Manager John Farrell said he might rearrange the rotation with a day off coming up Monday and his bullpen overworked of late.
WHAT A RELIEF
Brewers starter Chase Anderson needed 99 pitches to get through 4 2/3 innings, allowing nine hits and two runs.
When Boston's Mookie Betts hit an RBI single in the fourth to tie the game at 2, it seemed as if the teams were well on their way to another long night of lots of hits and mediocre pitching.
But Scahill (1-1) shut down the Red Sox, allowing just two walks over 2 1/3 scoreless innings to pick up the win. Hughes got Vazquez to ground into a 5-4-3 double play with the bases loaded and no outs in the eighth, holding Boston to one run in the inning.
"No bigger opportunity than the eighth inning, but we come up short with three double plays here tonight," Farrell said.
STARS OUT
Both squads lost key players to injuries. Boston first baseman Hanley Ramirez left before the bottom of the fourth with what the team called a muscle spasm in his right upper back. Braun departed after singling in the fifth with left calf tightness. Counsell said he was planning to give Braun a day off on Wednesday anyway.
TRAINER'S ROOM
Red Sox: Ramirez, who made his first start at first base this season, had been limited to serving as a designated hitter this year and had a lingering right shoulder injury. … LHP David Price (strained left elbow) is scheduled to make his first rehab start in the minors on Sunday at Triple-A Pawtucket.
Brewers: RHP Junior Guerra (right calf) will make his first rehab start on Monday at Double-A Biloxi, where he hopes to throw about 75 pitches. Guerra got hurt trying to run out a bunt at the plate during his first career opening day start.
UP NEXT
LHP Eduardo Rodriguez (1-1) has been respectable on the road to begin the season, going 1-1 with a 3.71 ERA in three starts. He'll make his first career start against the Brewers as the Red Sox wrap up a three-game interleague series at Miller Park. RHP Jimmy Nelson (1-2) goes for Milwaukee. He left after three innings in his last start on Friday against Pittsburgh because of a 2 1/2-hour rain delay.