Brett Favre reveals Vicodin addiction, multiple rehab stints during Hall of Fame career
Hall of Fame quarterback Brett Favre revealed Monday that he once took 14 Vicodin at one time and ended up in rehab three times during his NFL career.
In 1995 with the Green Bay Packers, Favre said he was taking large doses of Vicodin daily to keep him wired. Favre, who won the NFL MVP that year, told Sports Illustrated that his first thought in the morning was to "get more pills."
"I took 14 Vicodin, yes, one time. I was getting an hour or two of sleep many nights. Maybe 30 minutes of quality sleep. I was the MVP on a pain-pill buzz," Favre told the magazine. "The crazy thing was, I'm not a night owl. Without pills I'd fall asleep at 9:30. But with pills, I could get so much done, I just figured, 'This is awesome.' Little did I know [fiancée and now wife] Deanna would be finding some of my pills and when she did, she'd flush them down the toilet."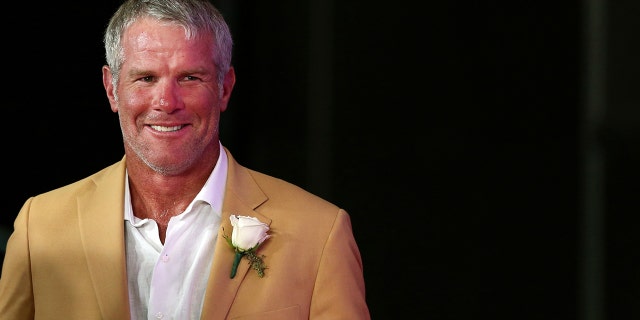 Favre spent 72 days in a Kansas City rehab facility starting in May 1996. He said at a news conference that year that he became addicted to painkillers because of numerous surgeries and it wasn't until after he suffered a seizure in the hospital that he asked the NFL for help, according to The New York Times.
The legendary quarterback revealed to Sports Illustrated that the Kansas City stint wasn't the only time he had entered rehab. Favre said he was in a facility in Louisiana for pill addiction before 1996 and then in 1998 he was back in Kansas City for alcohol addiction.
"I was back. 1998. Guess who was waiting there when I walked in — that same nurse. This time it was strictly for drinking. I didn't go back to the pills," Favre said. "I admitted my problem, I was in there 28 days, and it worked. When I got out, the toughest thing was the first three months, because I had to change my thought process. When I played golf before, I realized the only reason I wanted to play was to drink. After a while, instead of thinking, 'How many beers can we drink in 18 holes?' I fell into a pattern of what could I do to get good at golf. I realized with each passing day I really didn't like drinking."
"I took 14 Vicodin, yes, one time."
Since retiring, Favre has revealed an extraordinary set of health issues.
He told NBC in April that he might have had "thousands of concussions during his career and that he's experiencing short-term memory issues. He also said he worries about developing chronic traumatic encephalopathy as he gets older.