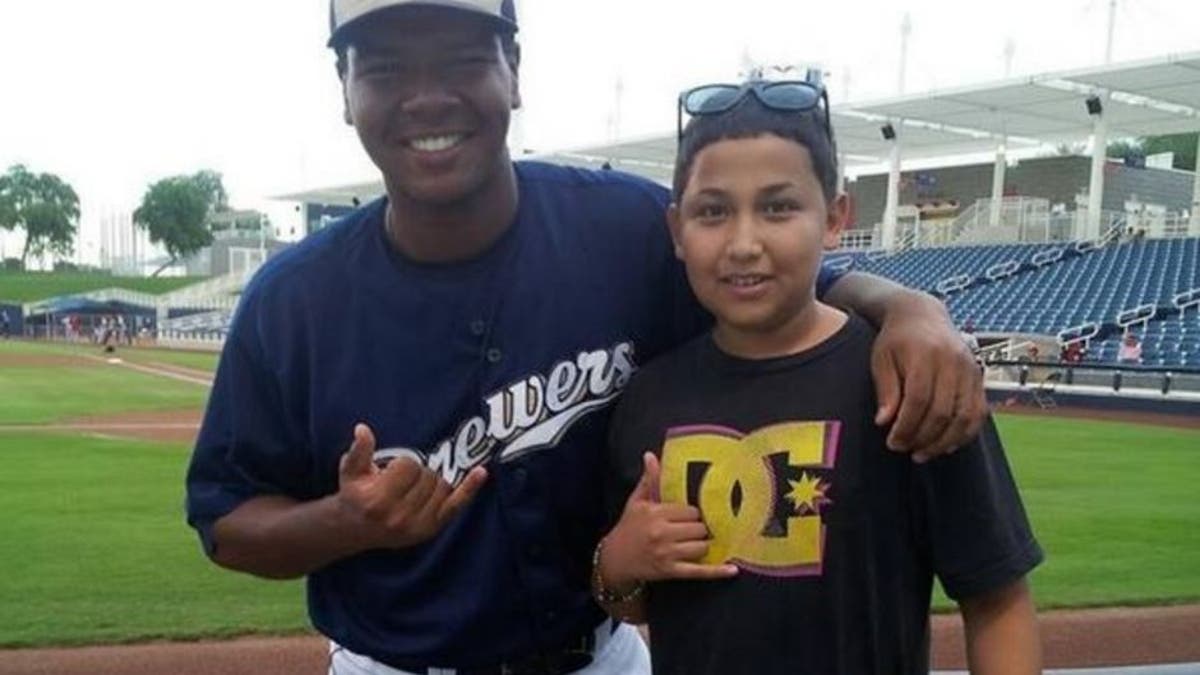 It had been a long day and night for David Denson, in so many ways.
His team had been swept in a doubleheader in the low-level Pioneer League, he didn't have much luck hitting and he'd made a throwing error, too.
But it wasn't a total loss.
As the 20-year-old Denson headed to the Helena Brewers' clubhouse at Melaleuca Field late Saturday, a middle-aged fan of the opposing Idaho Falls Chukars approached and extended his hand.
"I'm proud of you," the man said.
"Thank you," Denson said.
Hours earlier, the Milwaukee Brewers minor leaguer had become the first openly gay active player on a team affiliated with Major League Baseball.
The news broke in the middle of the second game, after he reached out to the Milwaukee Journal Sentinel.
Milwaukee manager Craig Counsell told his team about Denson's story after its 4-2 win Saturday night over Philadelphia at Miller Park.
"It's a very courageous move on his part to be the first one, the first active player to make this announcement," Milwaukee star outfielder Ryan Braun said Sunday. "Hopefully, everybody is at a point where we can just be supportive, not just understanding, but accepting and supportive of him and his situation."
In June, pitcher Sean Conroy of the Sonoma Stompers of the independent Pacific Association revealed he is gay. The Pacific Association is not affiliated with MLB. Denson's coming out follows similar disclosures of late across sports: Michael Sam (NFL draftee); Jason Collins (NBA); Derrick Gordon and Edward Sarafin (NCAA basketball, football) and Dale Scott (major league umpire).
Several hours before Denson's team played at Idaho Falls on Sunday, the Helena club said the first baseman-outfielder didn't want to do further interviews for a few days.
"It's a lot to take in right now," Denson told the Idaho Falls Post-Register late Saturday night. "I'm a ballplayer first. That's what I'm focusing on."
When Counsell played in the majors, his agent was the same person who now represents Denson.
"I know David a little bit from going to see him in the minor leagues," Counsell said. "I always looked out for him a little bit when I went to see him and had conversations with him. I'm happy for him more than anything."
Denson was picked by Milwaukee in the 15th round of the 2013 draft from West Covina, California. He has split his time this year, starting and struggling at Wisconsin of the Class A Midwest League before being sent back to the rookie level Helena team.
Denson is hitting a combined .227 with five home runs and 26 RBIs this season. He homered earlier this month in the Northwest/Pioneer League All-Star game.
The first baseman and outfielder was 0 for 2 with two walks in a 6-5 loss on Sunday in Idaho Falls. He received a few claps before his first plate appearance.
MLB said Sunday that it backs Denson's decision "to share his personal story and wishes him continued success with his goal of becoming a major leaguer."
The league added that is "very proud" of the Brewers organization and this disclosure represents a "tremendous example of baseball's desire to give every player the opportunity to play at their very best."
The Brewers lauded Denson as a "highly respected member" of their family and "a very courageous young man."
General manager Doug Melvin said in the statement: "Our goal for David is to help develop him into a major league player, just as it is for any player in our system, and we will continue to support him in every way as he chases that dream."
Said Counsell: "I just wish him the best of luck trying to become a major league baseball player."
"It's not easy becoming a major league baseball player," he said. "It certainly hasn't been easy dealing with everything he's had to deal with up to this point. Hopefully, this kind of gets something for himself out of the way that can allow all his talents to shine through."
Denson came out with the help of Billy Bean, MLB's first Ambassador for Inclusion. Bean disclosed he was gay after his playing career in the majors.
"Talking with my teammates, they gave me the confidence I needed, coming out to them," Denson told the Journal Sentinel. "They said, "You're still our teammate. You're still our brother. We kind of had an idea, but your sexuality has nothing to do with your ability. You're still a ballplayer at the end of the day. We don't treat you any different. We've got your back.'
"That was a giant relief for me," he added. "I never wanted to feel like I was forcing it on them. It just happened. The outcome was amazing. It was nice to know my teammates see me for who I am, not my sexuality."
Braun said he would root for Denson and welcome him as a teammate.
"Hopefully, he's strong enough to deal with everything that comes with it," he said. "Obviously, he'll get plenty of support, but I'm sure there will be plenty of challenging situations for him as well."
"In sports specifically, I do think we're making progress. We're certainly headed in the right direction. So, hopefully, that continues. Any time something like this occurs, I think it's a step in the right direction," he said.