'Bama's Bo Scarbrough ready for a breakout season?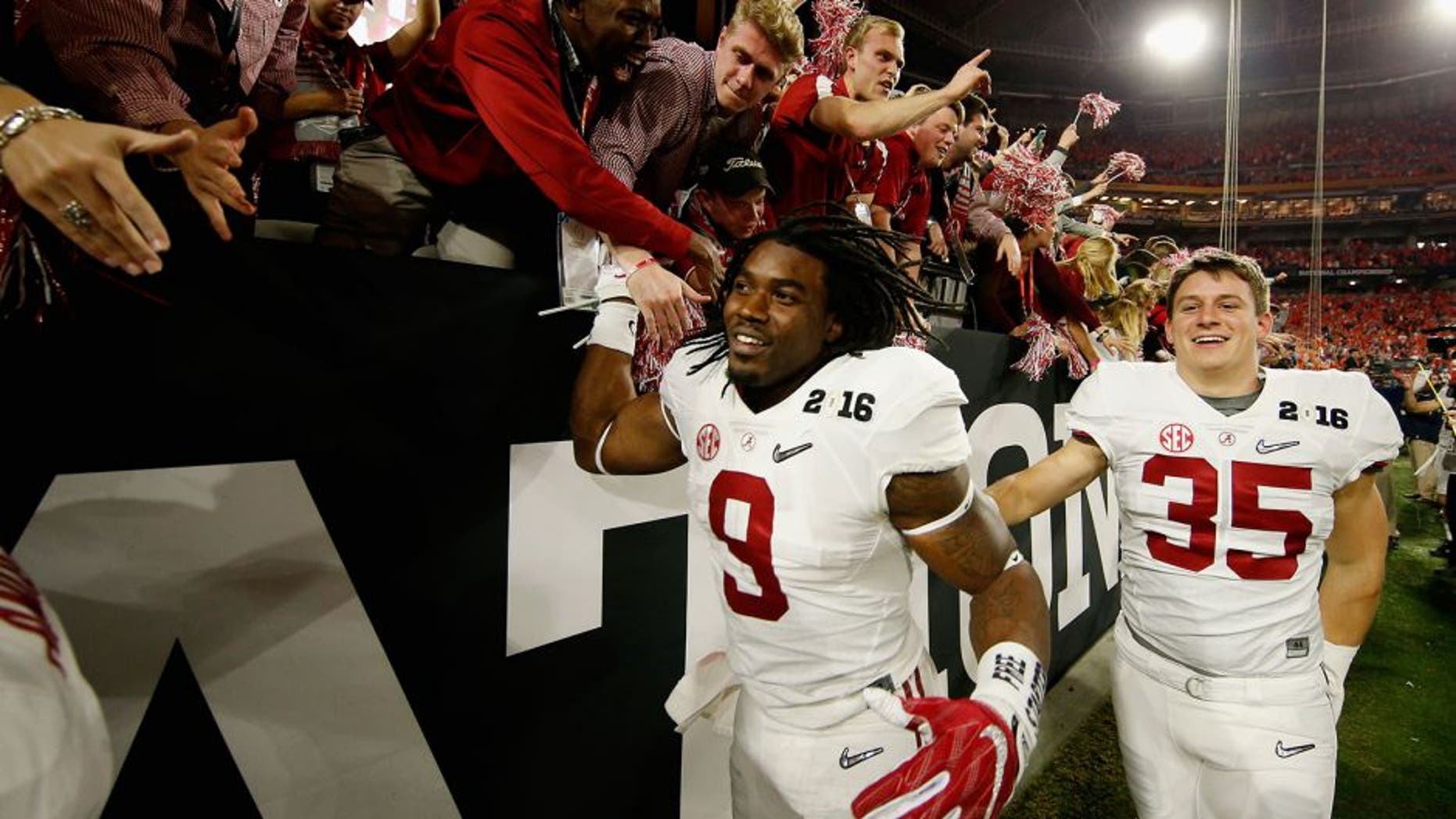 You could hear the buzz building about Bo Scarbrough before you arrive in Tuscaloosa. Listen to the radio driving in from Birmingham and talk radio is already going full speed. Word of the 6-2, 230-pound sophomore running back's performance in Alabama's two scrimmages has people inside the media, and out, conjuring up images of the Tide's next great back. After all, he has run for 243 yards on just 21 carries in two spring scrimmages, prompting many to say the Tide apparently has found its answer to replacing Heisman winner Derrick Henry.
"Apparently" because these two scrimmages were closed to the media, and folks outside the Tide program are going primarily off his former five-star recruiting status and those gaudy numbers.
Nick Saban who's no fan of putting out those stats, would like to wrangle that hype train, pointing out to FOX Sports earlier this week that spring scrimmage often can be misleading.
"Who was the guy running against? If the second team was out there, it's a little different story than if he's running against the first team," Saban said, adding that if a guy broke off a 95-yard run against some back-ups, it'll also skew his stat line. "There's all these factors and variables that statistics don't really take into account. I hate to even release 'em. I think they're meaningless, but saying all that to say this: Bo has done a nice job this spring, and so has (sophomore running back) Damien Harris. I can't even say which guy is better than the other guy right now. I'm happy with both of their developments and both guys have significant things they need to continue to improve upon.
"Who gained how many yards in the last scrimmage means nothing."
Asked what impresses Saban about Scarbrough, the Tide coach said, "He's a big, physical and fast. He can catch and he's got power."
Sounds a lot like the guy who just left Tuscaloosa after rushing for 2,219 yards and 28 TDs last season, no?
Saban doesn't want to go there, lamenting that "we make guys stars here before they ever do anything. I'm trying to manage it."
Truth is, when he says "we," I think it's more we in the media than any staffer at Alabama. We become primed to go all-in earlier and earlier these days.
Back to that Derrick Henry comparison . . .
"Hey, there's a lot of things that go with that," Saban explains as he talks about the unknowns in assessing his new running backs at this point. "What is his durability? What kind of ability does he have to sustain? Does he get tired fast? Does he get hurt easy?
"There's a lot of questions about a really good running back. If there was one factor that you could say I can't measure by what this guy does (on paper), it would be, what's his drive? What's his desire? The guy who just left here (Henry) was a 10 out of 10 in that regard. The way you measure that, especially for a running back, is to play the games. How much mental and physical toughness do you have and can you sustain that?"
That's the TBD for the guy who came off a knee injury to rush for 69 yards on 15 carries as a freshman last fall. Then again, the buzz inside the program does sound pretty good too.
"He's just very tough and hard to tackle," Alabama senior linebacker Ryan Anderson said of Scarbrough. "I haven't seen one person tackle him by himself yet. He just keeps his feet moving and is a very strong runner. Later on in the scrimmages when people get tired, he keeps wearing on people."
Now that does sound very, very familiar.